'The moment you start putting pressure, it doesn't work that way. So, even with his batting, he (Pandya) has all the freedom, doesn't really matter what the situation is'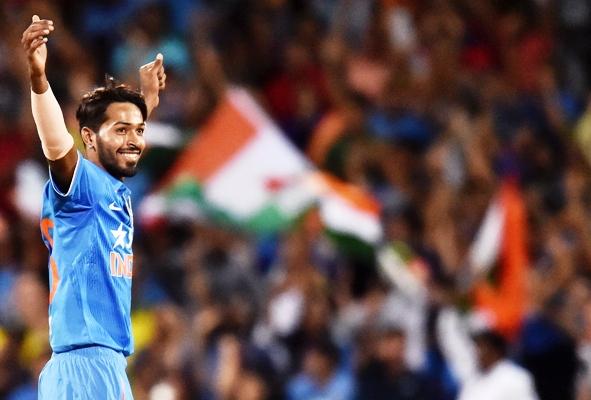 IMAGE: Hardik Pandya of India celebrates a wicket. Photograph: Daniel Kalisz/Getty Images
India's head coach Anil Kumble has admitted that Hardik Pandya has been given full freedom to perform at his absolute best.
Pandya's man-of-the-match performance saw him grab figures of three for 31 in his One-Day International debut against New Zealand in Dharamsala on Sunday.
Addressing a press conference on the eve of the second ODI to be played at the Feroz Shah Kotla, Kumble said: "Someone, who is just starting his international career, we don't want to put pressure on him (Pandya) by giving him definite plans that this is something we expect from him. He is someone who likes the freedom and that is exactly what we have given to Hardik. We don't want to burden the younger player who is coming in to suggest that this is what is expected this from you.
"Hardik is someone, even with regard to his bowling, all we have told him is to just go out there and bowl with freedom and don't worry about getting hit," he added.
The 47-year-old former leggie further said that pressure usually doesn't bring out the best of the players.
"The moment you start putting pressure, it doesn't work that way. So, even with his batting, he (Pandya) has all the freedom, doesn't really matter what the situation is. When he walks in, I am sure he will play in the way he wants to play rather than how you want him to play. At this time, in his career, we will like to give him freedom," he said.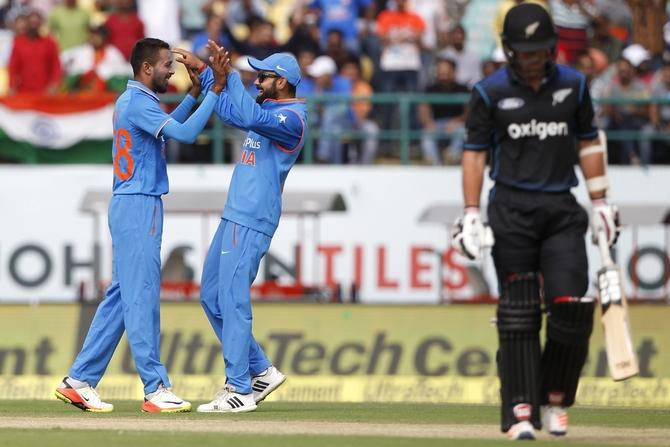 IMAGE: India's Hardik Pandya celebrates with Virat Kohli. Photograph: BCCI
In the opening match at the HPCA Stadium in Dharamsala, which the Men in Blue won by six wickets, limited-overs skipper Mahendra Singh Dhoni took everyone by surprise by handing Pandya the new ball ahead of Jasprit Bumrah.
Pandya, however, soon showed that the skipper had taken a right decision as he bagged Man of the Match award for his impressive bowling performance.
Reflecting on Dhoni's decision to try Pandya with the new ball, Kumble said he felt really pleased to see the all-rounder providing right balance in the team and come up as the Man of the Match in his debut ODI.
"I think he is someone, who obviously gives us the right balance because he can bowl with a pretty good pace as well. And it was nice that he really bowled well in the first game. In the ODI, with the new ball, that was the strategy that Dhoni wanted Hardik to try. It is really heartening that he came up with the Man of the Match in his first game. So, I am sure it has given him a lot of confidence. Like I mentioned you know all-rounders, who can bowl quick and bat," highlighted Kumble.