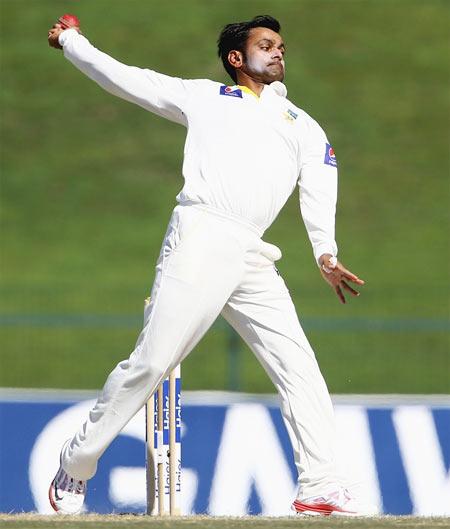 Pakistan's experienced all-rounder Muhammad Hafeez has finally been issued a visa by the Indian High Commission in Colombo, but the Pakistan Cricket Board is likely to ask the ICC to extend the 14-day deadline he has to undergo a bowling assessment test.
Hafeez was due to due to fly to Chennai from Colombo on Tuesday for his bowling assessment test but since he was unable to get the visa on time the visit was cancelled.
"Today we have been told by the Pakistan team management that he has got his visa in Colombo. We are in touch with the ICC now to decide on a fresh date for his bowling assessment test since the third Test also begins on July 3 and Hafeez might be required to play in the match," a PCB official said.
The official said the board opted to have the test at Chennai since it was an ICC accredited biomechanics laboratory and it would also reduce travel time for Hafeez from Colombo.
"Plus Hafeez is also comfortable as he has undergone bowling tests there before as well," the official added.
The PCB is contemplating asking the ICC to extend the deadline for bowlers reported with illegal bowling actions to undergo a bowling assessment test at an ICC accredited centre till after the third Test.
Hafeez, a batting all-rounder who bowls off-spin, was reported by match officials for an illegal bowling action for the second time within a year during the first Test against Sri Lanka at Galle.
Under ICC laws he has to undergo a bowling assessment test within 14 days and can continue to bowl during this period, which he did in the second Test in Colombo that ended on Monday.
If he fails the test, he can be banned from bowling for 12 months.
Pakistan lost two of their most valuable spinners, Saeed Ajmal and Hafeez, to illegal bowling actions last year while playing in Sri Lanka and in the UAE.
Image: Mohammad Hafeez

Photograph: Francois Nel/Getty Images