'In recent times visas have been refused to number of Pakistani sporting teams and we don't think the conditions in India are conducive for our team to play there.'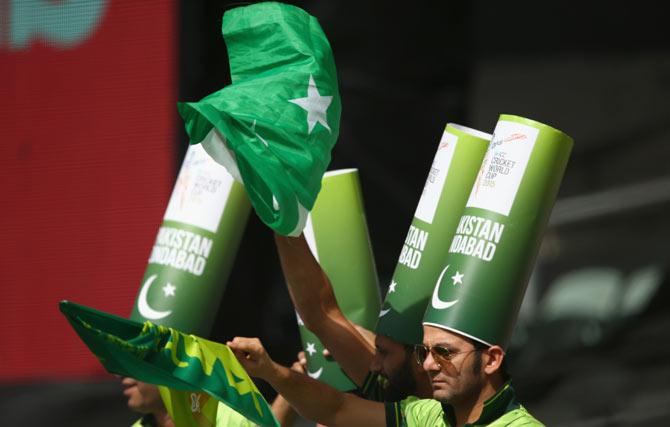 IMAGE: Pakistan cricket fans. Photograph: Mark Kolbe/Getty Images
The Pakistan Cricket Board on Tuesday said it wants the upcoming Under-19 Asia Cup to be moved out of India to a neutral venue due to security concerns.

India is scheduled to host the tournament in November in Bangalore but a top PCB official said given the present diplomatic situation between the two countries, it would request the Asian Cricket Council (ACC) to relocate the venue at its meeting later this week at Colombo.

"We will be taking up this issue with the Asian Cricket Council when its development committee meeting is held in Colombo this weekend," the PCB official said.

He said the PCB does not want its players to go through the tensions of not knowing whether they will be able to travel to Bangalore for the event or not.

"In recent times visas have been refused to number of Pakistani sporting teams and we don't think the conditions in India are conducive for our team to play there," he said.

Shaharyar Khan, who completed a three-year tenure as PCB chairman this week, is set to take over as chairman of the ACC at the weekend meeting.

Najam Sethi, who is set to be elected as Shaharyar's successor on Wednesday confirmed that Pakistan wants the Under-19 Asia Cup to be shifted out of India.

A reliable source within the PCB said they have now decided to take a tougher stance on ties with India.

"After the BCCI recently made it clear it didn't want the Pakistan emerging team in the tri-nation series in South Africa, the PCB has also decided to adopt a tough line now with Indian Board," the source said.

He said the South Africans had invited Pakistan to replace the Australian side in the tri-series but instead had to opt for Afghanistan following resistance from the BCCI.

He said Pakistan would also take up the issue of the venue for the planned Asia Cup senior tournament next year in March-April at the ACC meeting.

The official said that the Asia Cup is a very important event for development of junior players and could be held anywhere in the region but not India.

The diplomatic tensions between the two nations have prevented the neighbours from playing a bilateral series since 2007, apart from Pakistan's tour to India in 2012-2013 when they played a short limited-overs series.