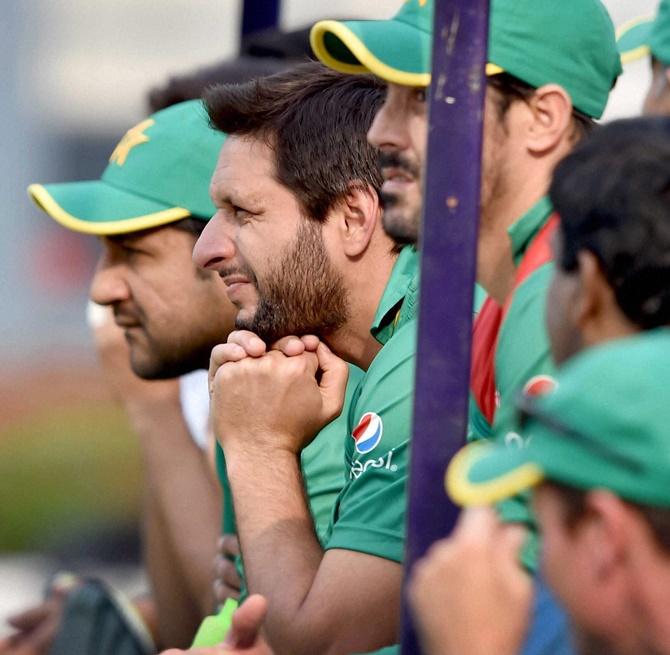 IMAGE: Pakistan captain Shahid Afridi and other players after their early exit from 2016 World T20.
The national team manager Intikhab Alam has blamed captain Shahid Afridi for Pakistan cricket team's recent poor performances, including at the World Twenty20 in India.
The report states that Afridi was involved in 'needless controversies' during the World T20. In the five-page report submitted to the PCB and fact-finding committee of the PCB, Alam said that the team failed to sustain the stress and the pressure associated with the world event.
"The recent Asia Cup and the ICC World T20 have made it evident that we have critical gaps both in batting and bowling and our fielding keeps on leaking runs, thus releasing pressure. In bowling, with the exception of Muhammad Amir, we do not have a bowler who can win us matches.
"Our death bowling also is way below par. And the same goes with our batting line-up, where we do not have reliable pinch hitters and the top and power hitter to clinch us games," Alam wrote in his report, leaked to media.
Alam, who has been associated with Pakistan cricket even after retirement in different positions for over three decades, also said that Afridi did not help matters by giving needless statements in India.
"To cap it all, the tournament was being held in India, where the team was under multiple scanners at the same time, pushing the stress and anxiety levels very high. Much to our chagrin [added to the above reasons], was a captain in his farewell event after a career spanning nearly 20 years, yet absolutely clueless in terms of on-field tactics and off-field leadership," he said.
Alam continued, "We were also set back by two absolutely needless controversies, the first emanating from Afridi's 'more-loved-in-India-than-in-Pakistan' statement in his mandatory on-arrival press conference [had he stuck to the detailed briefing given to him by the Media Manager and myself, this would not have occurred] and Umar Akmal again stealing the limelight in an unseemly manner by seeking Imran
Khan's intervention to fix his batting position at three, when he had done little to inspire confidence at number 4."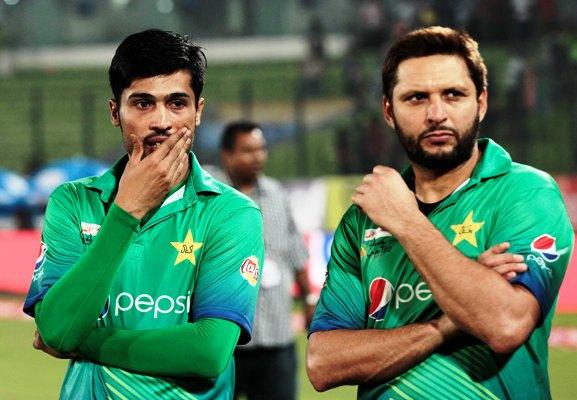 IMAGE: Mohammad Amir and Shahid Afridi (Right) of Pakistan. Photograph: Solaris Images
On the match against India at Kolkata, the former test captain and coach said that everything went against the team.
"On the day, the events also conspired against us," wrote Intikhab. "For one, the weather didn't help. On the same square where the Pakistan batsmen gave a command performance against Sri Lanka [the warm-up match] and Bangladesh, the weather suddenly turned from sultry and sunny to wet and unpredictable.
"Intermittent rain during the night prior to the game, followed by further downpours and overcast skies, meant that the pitch and outfield remained covered for more than 24 hours, changing its character from slow in pace to a spitefully turning and gripping one."
Alam added that Pakistan legend Imran Khan was only good enough to give a pep talk to the team and lacked the ability to understand the post-modern demands of the game.
"To prop up the team's morale, Shahid Afridi invited Imran Khan for a pep talk prior to the game. Imran for his part tried to lift the morale, advising the boys to stay positive till the last ball was bowled, and never allow the possibility of defeat enter their consciousness.
"It was a pretty decent one as far as pep talks go, but it was evident that Imran – not unlike many outstanding exponents of the game from his time who have not stayed abreast with it – was not too familiar with the demands and tactics employed in this condensed, post-modern format of the game."
He also criticised the non-aggressive field placing by Afridi: "I also felt if proper field placing was placed for Shoaib Malik in his initial over it may have given us a breakthrough; it was very surprising to see that in a low-scoring game there was no attacking field-placing. There was no slip; had he employed a slip cordon for Malik, we may have had Yuvraj as two chances from his blade went through."
© Copyright 2023 PTI. All rights reserved. Republication or redistribution of PTI content, including by framing or similar means, is expressly prohibited without the prior written consent.