- 'What can one say on this Indian refusal since 2007 to play us in Test matches. It is disappointing for me as I have played and captained against India in both countries and I know how much these matches mean to people of both countries and cricket world.'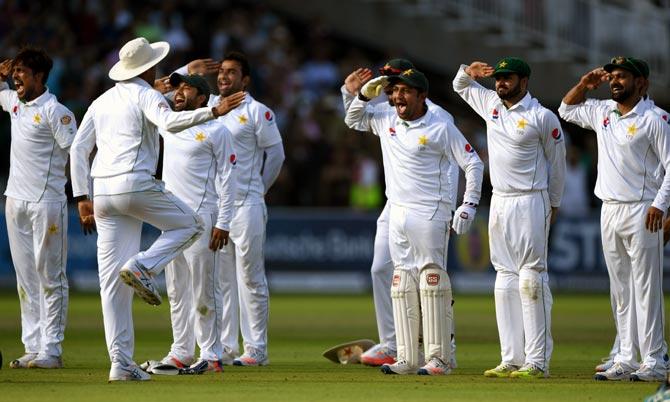 IMAGE: The Pakistan celebrates after winning the first Test against England at Lord's on July 17, 2016. Photograph: Stu Forster/Getty Images
Former captain Inzamam-ul-Haq is 'disappointed' at Pakistan not playing India in Test matches but he believes that his country can snatch back the number one ranking from the Indians by doing well against other countries.

"What can one say on this Indian refusal since 2007 to play us in Test matches. It is disappointing for me as I have played and captained against India in both countries and I know how much these matches mean to people of both countries and cricket world," Pakistan's chief selector Inzamam said on Saturday.

"There is nothing we can do but Pakistan is still capable of beating other teams and get back the number one Test spot from India," he added.

He said Pakistan deserved a lot of credit for even having overcome the issue of not being able to play international matches at home in the last six years.

"India is playing 13 Tests at home in the next few months, we have not played at home since 2009. But I still believe this Pakistan team can do well anywhere and against anyone," he said.

"The way we fought back from 1-2 down to level the series in England was a heartening performance. India has not done that well outside their country in Tests. They lost their last series in England."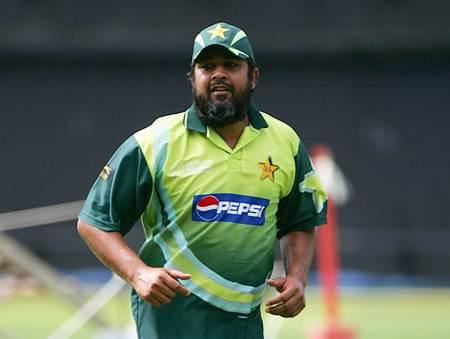 Inzamam said Pakistan is blessed with some quality young players and has the right balance with experienced performers as well.

He also feels that Pakistan will have their best chance of doing well in Australia in Tests and ODIs during their tour later this year.

"Whenever we toured Australia our batsmen always struggled there because of the bouncy tracks. But I think now every Board wants Tests to last for five days to save their commercial interests and nowadays even pitches in Australia are not that fast or bouncy. I think the way our team is playing this time we have a very solid opportunity to upset them in their own backyard," Inzamam stated.

"We have got the right combination in Tests and we have found some exciting players for ODI and T20 cricket. We have an excellent blend of experience and youth and our mindset is changing. We can do well in New Zealand and Australia as well."
Image: Inzamam-ul Haq
Photograph: Paul Gilham/Getty Images