'In cricket there is a second innings and another day, so we dusted ourselves off and tried to do as best as we can'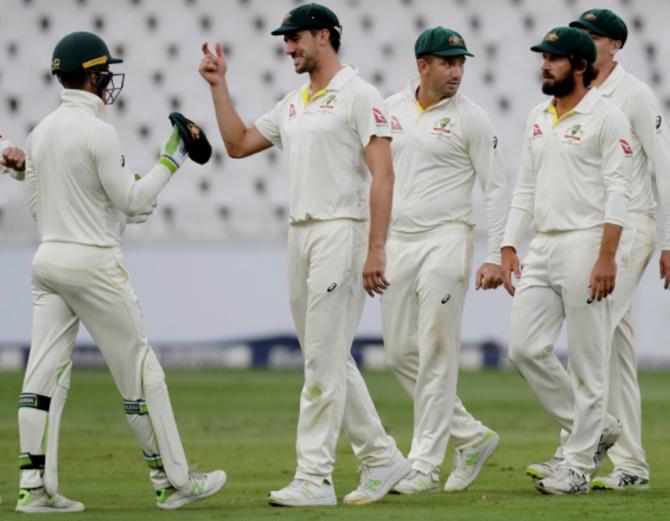 IMAGE: Australia players leave the crease at the end of play. Photograph: Siphiwe Sibeko/Reuters
Australia captain Tim Paine hailed his side's effort and fight as they rose from the malaise of their ball-tampering scandal to find a competitive edge on the third day of the fourth Test against South Africa at the Wanderers.
The tourists are still facing a defeat and a first series loss in South Africa in almost 50 years as they trail by 401 runs with seven home wickets still to get and two full days. For large parts of Sunday, though, they had the better of their hosts after previously being thoroughly outgunned.
Their final four wickets in the first innings added 125 runs with Paine (62) and Pat Cummins (50) putting on 99 for the seventh wicket. Then, tight bowling and energetic fielding restricted South Africa to 134 for three in 56 overs in their second innings.
"We were really disappointed with how things went yesterday and we spoke about that," Paine told reporters at the close.
"To come out and have a response today, we are obviously a long way behind the game, but the spirit and the fight with the bat, and then the discipline our bowlers showed... I was proud of the way they stuck at it."
"The same with our fielding, I thought the energy right through the innings was excellent."
Australia need victory to avoid a first series defeat in South Africa since 1970, but have been rocked by the ball-tampering scandal that resulted in former captain Steve Smith, his deputy David Warner and batsman Cameron Bancroft being sent home and given hefty bans after the third Test in Cape Town.
Sunday was the first time that one of the team had faced the media without questions about the incident and Paine says the players want to prove wrong those critics who said they would roll over in the fourth Test.
"We were very disappointed in terms of our modes of dismissals (in the first innings), which I thought were pretty poor. But in cricket there is a second innings and another day, so we dusted ourselves off and tried to do as best as we can," he said.
"Now we have to let today go and focus on tomorrow, and try and do things better again and keep improving. When you have got some of your best players not in the side it's about people picking up the slack and trying to get better every day."
New skipper Paine is playing with a hairline fracture in his thumb but says he is not feeling too much discomfort.
"It's OK, it's got a little crack in it, but I've played through worse," he added. "It hurts a little bit, but I've had my fair share of finger injuries and compared to a couple of them, this one is not too bad."