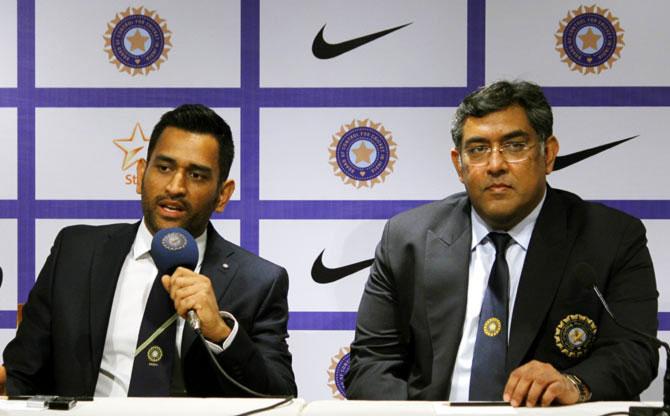 IMAGE: Team India captain Mahendra Singh Dhoni and Team India manager Kapil Malhotra during a media session in Mumbai on Tuesday. Photograph: Hitesh Harisinghani/Rediff.com
India's One-Day International captain Mahendra Singh Dhoni, on Tuesday, lamented the absence of a good attacking batsman lower down the order for the upcoming One-day series tour of Australia, starting on January 12.
India's regular lower order bat Suresh Raina was not selected for the tour Down Under -- he got the axe following a below-par performance against South Africa, scoring just one fifty in five games.
The selectors included two inexperienced players in Gurkeerat Mann and Manish Pandey for the five-match ODI series, and Dhoni believes the two youngsters will get a chance to prove their worth.
"One of them (Mann or Pandey) will feature in the batting order because those are the two batsmen who are there. Also, as I said, No. 6 and 7 is the most difficult place for any batter to come if you are making your debut. It is one place where not many have been successful.
"If you see the past, we have tried almost everyone. Rohit (Sharma), (Ajinkya) Rahane, Virat (Kohli) played at that number but only few individuals (have done well)," said Dhoni in Mumbai, on the eve of the team's departure to Australia.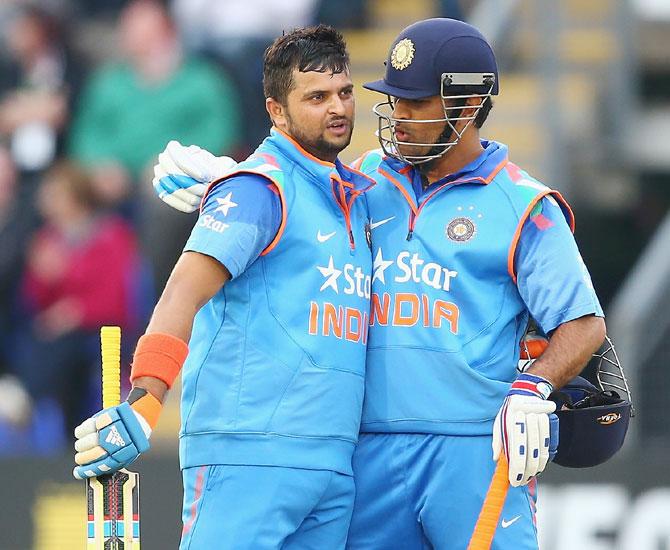 IMAGE: Suresh Raina (left) and Mahendra Singh Dhoni. Photograph: Michael Steele/Getty Images
In the last year or so, Dhoni has preferred batting up the order at No. 4 or No. 5, but in the absence of the experienced Raina, the captain is caught in a dilemma over whether to promote himself or bat lower down the order.
"The tricky part is whether to push that individual to bat at No. 6 or give that individual the chance to bat at No. 5, and I take that extra pressure of batting at No. 6," he pointed out.
The 2011 World Cup-winning captain says India needs to find a few good attacking players who are capable of batting lower down the order and take on the bowlers in the final few overs.
"We have four very good top order batsmen, another may be 4-5 in the domestic circuit who can fill in that spot if something happens. Where we need to find more talent is No. 5, 6 and 7 slots because it is not an easy one and that is where I felt Suresh (Raina) was good.
"You won't be very consistent at that number but what is important is you have to score at the right time. Definitely, one of them will get an opportunity. We will evaluate if No. 5 is best suited for them or I should bat at 5 and they at 6," he added.