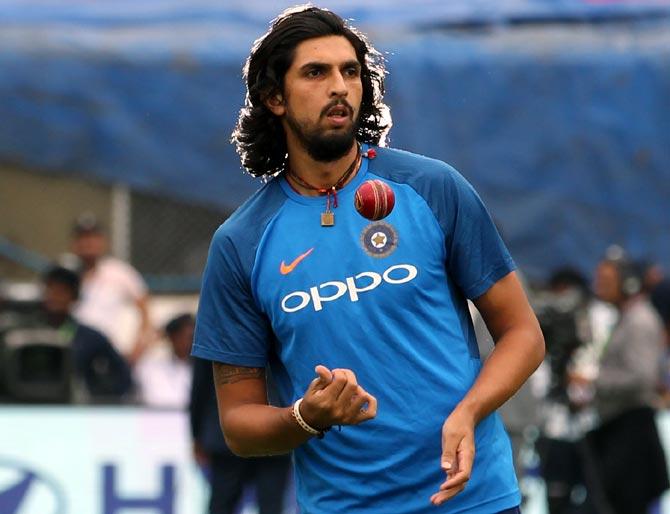 IMAGE: India fast bowler Ishant Sharma. Photograph: BCCI
Delhi's bid for a quarter-final berth received a major boost after their regular captain Ishant Sharma was released by the Indian team management for the fifth round Ranji Trophy Group A game against Maharashtra, starting in New Delhi on Friday.
For Maharashtra, their batting mainstay Kedar Jadhav is unavailable due to a wrist injury.

As per the policy of team management for the past few years, players who are not part of the playing eleven are sent back to play first-class cricket to keep them match ready.

"Ishant will be reaching Delhi by evening and he will be leading the side. Rishabh Pant will be his deputy. We have got confirmation," Delhi team manager Shankar Saini said on Thursday.

Delhi, with 17 points from four games, are currently placed second in Group A behind Karnataka and are well in contention to grab one of the top two spots in the group.

On paper, they are the runaway favourites against Maharashtra, who are on 10 points from four games and would need big outright wins to qualify, which looks improbable at the moment.

With Ishant coming in, he will share the new ball with the dependable Navdeep Saini, while Shivam Sharma and Manan Sharma will be the two spinners.

Veteran Gautam Gambhir has been in good form with two centuries from four games, but Unmukt Chand's poor run is bothering the home team.

Chand has failed to get going, save his 49 against UP, in a successful chase.

Dhruv Shorey has scored a few runs while Milind Kumar has not converted starts.

Pant, who has been going through a bad patch, would also like to get going.

Maharashtra coach Surendra Bhave informed that Kedar is currently at the National Cricket Academy in Bengaluru for strength and conditioning.

"We have our skipper Ankit Bawne, who has been a dependable longer format player. Rahul Tripathi had a great IPL and Rohit Motwani is coming at the back of a hundred in the last game. I am still confident we can qualify," Bhave said.