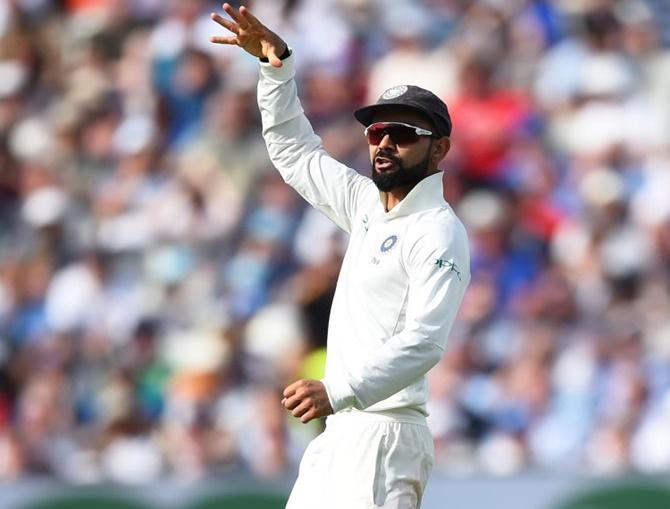 India skipper Virat Kohli mocked at Joe Root's 'mic drop' celebration with his own version of the gesture but the England captain took it sportingly, saying 'it adds to the spectacle of Test cricket'.
Kohli's act came after his direct throw from mid-wicket found the England captain short of crease after having added 100 plus runs with Jonny Bairstow on the opening day of the first Test.
"I did not see it in the middle. Saw it last night after day's play. It adds to the whole spectacle of Test cricket. Gives a bit of humour to it. It also makes it for a very entertaining series. Let's see how things pan out over the course of the five Tests," Root told Sky Sports ahead of Day two.
Kohli's animated celebration of Root's run out was a response to the England skipper's 'mic drop' gesture during the ODI series, when he had dropped his bat dramatically to celebrate his hundred.
From a comfortable 111 for two, England ended the day at 285 for nine with Ravichandran Ashwin and Mohammad Shami doing the bulk of the damage.
"It was a disappointing last session but for majority of the day we played some good cricket. And that is what we have got to take into today. We had good partnerships on a wicket that did a bit all day. That gives our bowlers a lot of confidence."
Talking about his mix-up with Jonny Bairstow that led to the run out, Root added: "It was a human error. It happens unfortunately. You hear a call and you trust your mate. It happens. I could have easily said no (to the second run) as well. No hard feelings there."
Ouch! Jennings cool with Kohli's 'mic drop' celebration
England opener Keaton Jennings says he is 'cool' with Indian skipper Virat Kohli's 'mic drop' celebration after his teammate Joe Root's dismissal in the opening Test, in Birmingham, as everyone is entitled to do it their own way.
Kohli's celebration of Root's dismissal with a 'mic drop' gesture, mocking the bat drop by the Englishman to celebrate a hundred during the ODI series, added a bit of spice to the proceedings on Wednesday.
The Indian skipper ran out Root (80) with a direct hit when the home player was attempting to pull off a risky second single in the 63rd over.
"It's fine. Everybody is entitled to celebrate how they want to. He celebrated, and that's cool," Jennings said at the end of day's play, playing down the incident.
Reflecting on the English batting, which collapsed from 216 for 4 to 285 for 9 at the d draw of stumps, Jennings said the hosts missed an opportunity but can still make it up.
Ravichandran Ashwin was the star for India with figures of 4-60.
"If we can come out and be pretty relentless in the way we go about hitting our areas, at some point, you don't actually know what a good score is until both sides have batted," Jennings said.
Jennings lauded Root for his knock, the end of which triggered the home team collase.
"Root played fantastically well. The way he goes about constructing his innings, builds it, communicates with me as a young cricketer, it is absolutely phenomenal. Having batted with him today, he's taught me a hell of a lot, which is awesome, just to watch a master at his work.
"He's a fantastic player, fantastic guy and to watch him go about building a Test innings on a pretty tough surface was pretty good. I suppose it's pretty disappointing for him personally not to go on and get a really big score," he said.
With Alastair Cook falling cheaply, Jennings put on 72 runs with Root but fell after lunch when he was distracted by a pigeon on the adjacent pitch one ball earlier.
"I obviously made an error, misjudged the ball, and it ended up in my stumps, and that's the way it is. I don't blame the pigeon at all," he quipped.
"Thirty overs before, people were standing up behind the bowler's arm, you could say that distracted me as well. You re-focus, go through your own method, your own process between each ball.
"I wouldn't say it distracted me at all. It just happens to be the ball before I got out, and suddenly there's a huge hoo-hah about the pigeon," he laughed it off.
Ashwin took charge of the day's proceedings for India. While Jennings praised the spinner, he couldn't commit whether both teams were wrong in going with only one spinner in their line-ups.
"Ashwin is a very good bowler. He lands the ball in the right area, varies his pace, in India, I suppose there are more balls that can get you out, with the surfaces turning. He bowled nicely today," he said.
"We come up with a gameplan to play off-spinners, left-handers – he bowled a good ball to Cook this morning, which maybe came down to a little bit of tackiness in the surface," he added.