'We have the same passion like Kohlis and Dhonis but there is no recognition'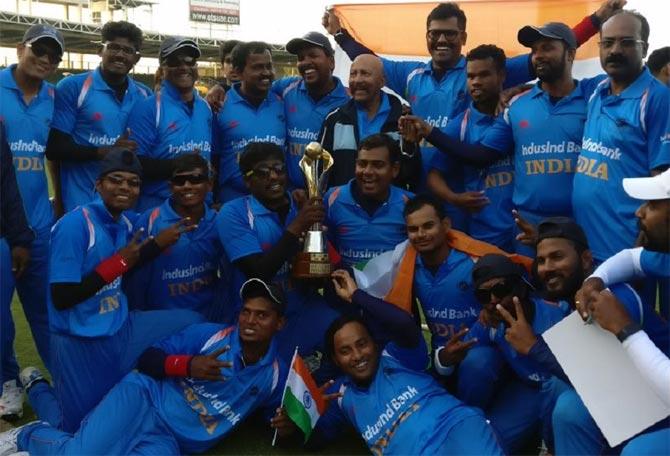 IMAGE: India's players celebrate after winning the Blind Cricket World Cup title in Sharjah on Saturday.
One is a singer, one works at a farm, another sells milk -- meet India's Blind World Cup winning team members who are struggling to make ends meet in the cricket mad nation where many will become overnight millionaires in the IPL auction this weekend.
Cricket is religion in India and cricketers enjoy larger than life status but on the contrary the champion blind cricketers continue to suffer due to unemployment and lack of recognition.
They have won two T20 World Cup, two ODI World Cup, one Asia Cup and four bilateral series in the last 59 months. Despite all the on field heroics, 12 out of 17 members of World Cup squad do not have any permanent job and seven among them are married.
And those who are working have to loose their pay as they do not get paid leave while representing the country.
Defending champions India beat Pakistan by two wickets in the final of the 5th ODI Blind Cricket World Cup at the Sharjah Stadium on Saturday.
Ganesh Mundkar is an all-rounder from Valsad, Gujarat and is an integral part of Indian team from 2014. His parents work as labourers in a farm while he has a small grocery shop.
"Family says that I should stop playing cricket but it is my passion. Gujarat government has promised me a job after WC win in 2014 and I am still waiting," Ganesh, who was Man of the Match in semifinal against Bangladesh, said.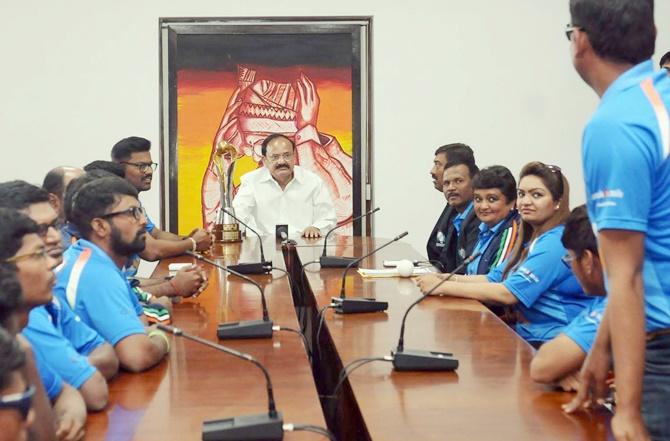 IMAGE: Indian cricket team which won Blind Cricket World Cup, interact with Vice President, M. Venkaiah Naidu. Photograph: PIB.
Prem Kumar from Kurnool, Andhra Pradesh is in the B1 category (complete blind) and sings in orchestra for livelihood.
"I get 1000- 1500 for a programme and during Vinayak Chaturthi I get around 10 shows while generally 2 or 3 shows in a month. It is not enough to run a family," said the all-rounder who lost his eyesight due to chicken pox when he was seven.
Anil Arya, an all-rounder from Valsad, has eight members in the family while the total income is Rs 12000 per month. His father is a labourer while he distributes milk.
"I supply milk to households and I have to give the responsibility to someone else when I am playing. I have to be in touch with him on daily basis and can't focus on game but don't have any other option," he said.
Venkateshwar Rao is from Andhra Pradesh and is famous as Virat Kohli of blind cricket. He scored 68 runs against Pakistan in WC league match and 35 in the final. He has scored four centuries against the arch-rivals.
He is delaying his marriage as he does not have any permanent job.
"I am working as a physical education trainer on contract basis. I used to earn Rs 5000 per month but now get Rs 14000. How would I run a family with this temporary job?" he asked.
Captain Ajay Reddy is not happy with the pathetic attitude towards blind cricketers who are working hard in adverse conditions to bring laurels for the country.
"We have the same passion like Kohlis and Dhonis but there is no recognition. Neither sports ministry nor BCCI recognise us which is pathetic," he said.
"Cricket Association for the Blind in India (CABI) is not affiliated to BCCI, there is only token support from the government. Facilities, even a practice ground, are hard to get. We are worried about the future," said John David, the chief coach of Indian team and secretary general of CABI.