'We want to create winning habits, good habits. And you know, winning is contagious'
'If we have a chance to win 4-0, then why not. We don't need to complacent'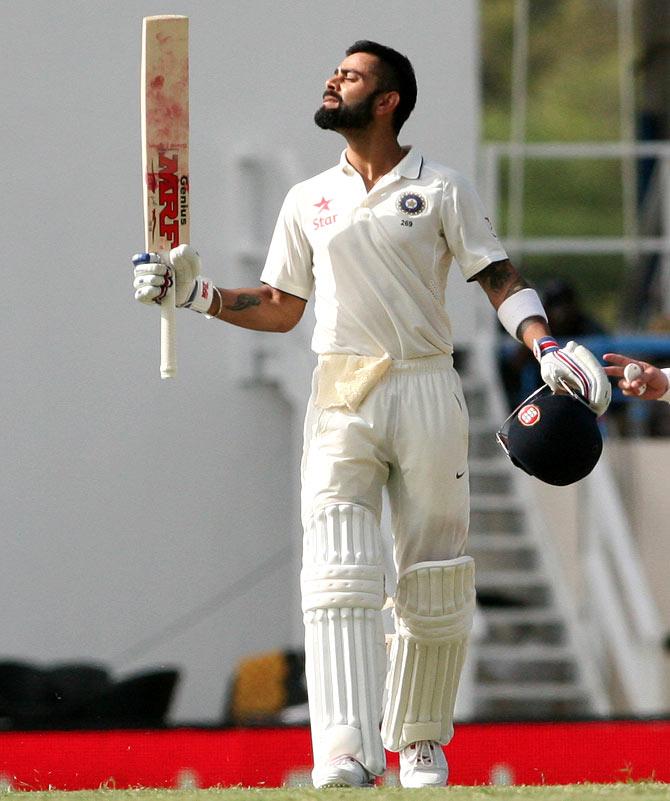 IMAGE. India captain Virat Kohli celebrates after completing his century on Day 1 of the first Test against West Indies in Antigua, on Thursday. Photograph: WICB Media Photo/Johnny Jno Baptiste.
Winning is 'contagious' and Indian Test captain Virat Kohli feels that it is a 'good habit' that his boys can create in order to become a formidable Test team anywhere in the world. India trounced West Indies by an innings and 92 runs well inside four days in the first cricket Test of the four-match series.
1st Test: Ashwin seals India's emphatic win against West Indies
"We want to create winning habits, good habits. And you know, winning is contagious. If we learn to win Test matches, then we'll learn how to win Tests everywhere. We will learn how to play in different situations and we will know exactly what to do when a certain situation is going a certain way," Kohli said.
"We want to be consistent side, we need to set ourselves goals and look to execute that rather than looking at the opposition which I think this team is willing to do," said Kohli after the win.
"That for me is a very pleasing thing as a captain and for the team as well."
"Everyone understands the way we want to play on the field - where we need to bat, how we need to bowl, etc. We need to be comfortable with what the team requires and I think that's the most important for this team going forward."
"Everyone knew what we needed to do in the match, and we executed them as well, so you get good feedback from the management as a result, you feel good about your performance. You can't ask for anything better. You bat just once, and you bowl the opposition out twice.
"First the fast bowlers take wickets, then the spinners also take wickets, the catching was also good. It was a good Test match for us, and going forward in the series, we will want to keep playing this kind of cricket," said the skipper.
"And if we have a chance to win 4-0, then why not. We don't need to complacent. If we end up getting a 2-0 lead, it's not that we are playing for a draw in the next two Tests," Kohli signed off.