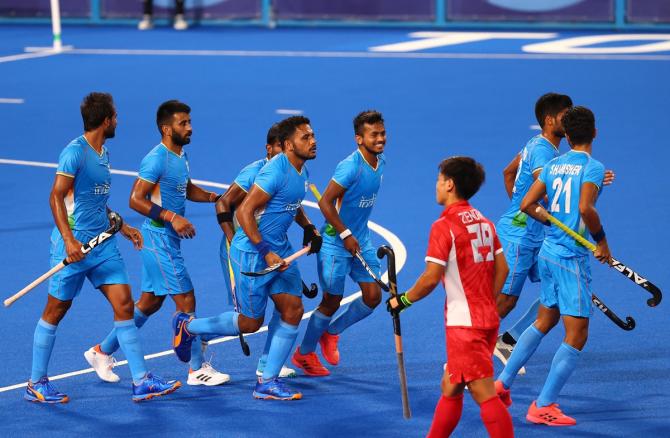 The Indian men's hockey wound up its league stage engagements at the Olympics with a 5-2 victory over Japan and consolidated second place in Group A, behind Australia, while sealing a berth in the quarter-finals, on Friday.
It was their fourth win in the group, at the Oi Hockey Stadium.
The Indians started aggressively and applied pressure on the Japan defence by attacking with swift passing. They forged ahead in the 13th minute from a penalty-corner. Harmanpreet Singh scored with a sizzling drag flick past Japan's goalkeeper Takashi Yoshikawa, who got a touch to the ball before it entered the goal.
It was the penalty-corner specialist's fourth goal of the tournament.
Two minutes into the second quarter, India doubled the lead when Gurjant Singh finished off a pass from Simranjeet Singh.
Japan pulled a goal back two minutes later after defender Birendra Lakra lost possession of the ball. Kenta Tanaka, who capitalised on the lapse, slammed the ball past goalkeeper P R Sreejesh in a flash.
The goal infused life in the Japanese forward line and they broke through the Indian defence again and scored. The umpire initially awarded a penalty-stroke after Surender Kumar blocked Watanabe rising shot with his body. India went for the referral, which showed the goal-bound shot that was blocked had entered the net before the whistle was blown and a goal was awarded.
But India replied immediately from the restart when Shamser Singh deflected a shot home from Nilakanta Sharma at the top of the circle.
Neelkanta made it 4-2, scoring from a scrimmage in front of the goal following a pass from the left by Surendra Kumar.
An excellent penalty-corner variation earned India their fifth goal.
Varun Kumar, at the top of the circle, took the set-piece and instead of pushing straight towards goal sent the ball to to Gurjant Singh, lurking at the right post, and the last-named made the perfect finish.