Opener Dhananjaya de Silva struck an unbeaten 78 to help Sri Lanka beat Zimbabwe by eight wickets on Monday in the opening match of the triangular one-day tournament that also features West Indies.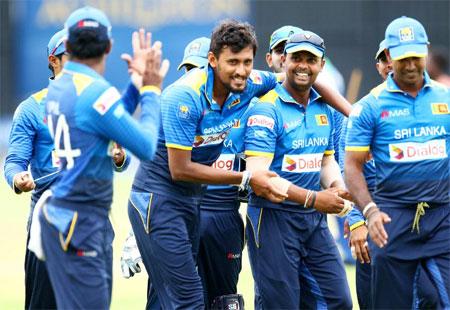 De Silva made his highest ODI score off 75 balls as his side reached their target in less than half the allocated time after Zimbabwe were bowled out for 154 in 41.3 overs.
Niroshan Dickwella made 41 in the other significant contribution as Sri Lanka compiled 155 for two in 24.3 overs.
Earlier, the visiting seamers scythed through the top order to leave Zimbabwe 50 for six before Peter Moor (47) and captain Graeme Cremer (31 not out) fought back.
Sri Lanka meet West Indies at the same Harare Sports Club venue on Wednesday while Zimbabwe's next game is against West Indies in Bulawayo on Saturday.
SCORECARD
Zimbabwe Innings
B Chari c K Mendis b Lakmal 7
C Chibhabha lbw b Pradeep 18
C Ervine c K Mendis b Lakmal 0
S Raza c Pathirana b N Kulasekara 1
S Williams st Dickwella b Pathirana 9
P Moor lbw b N. Kulasekara 47
E Chigumbura c Dickwella b Pradeep 1
G Cremer not out 31
D Tiripano c N. Kulasekara b Gunaratne 19
C Mumba lbw b Gunaratne 1
T Panyangara c Jayasuriya b Gunaratne 12
Extras: (lb-2 w-6) 8
Total: (all out, 41.3 overs) 154
Fall of wickets: 1-13 B Chari, 2-13 C Ervine, 3-14 S Raza, 4-29 S Williams, 5-46 C Chibhabha, 6-50 E Chigumbura, 7-105 P Moor, 8-136 D Tiripano, 9-139 C Mumba, 10-154 T Panyangara
Bowling: N. Kulasekara 8-2- 23- 2 (w-1); S Lakmal 7- 0-19- 2; S Pathirana 10- 0- 44- 1(w-1);
N Pradeep 7-1- 21- 2(w-3); S Jayasuriya 3-0- 24- 0; A Gunaratne 6.3- 1- 21- 3(w-1).
Sri Lanka Innings
D de Silva not out 78
K Perera c Raza b Chibhabha 21
N Dickwella c Mumba b Panyangara 41
K Mendis not out 12
Extras: (lb-2 nb-1) 3
Total: (for 2 wickets, 24.3 overs) 155
Fall of wickets: 1-56 K Perera, 2-140 N Dickwella
Bowling
T Panyangara 7.3-0- 37- 1(nb-1); C Mumba 4-0-31- 0; D Tiripano 3-0-17- 0; C Chibhabha 2-0-18-1; S Raza 3-0-25-0; G Cremer 5-0-25- 0.
Image: Sri Lanka players celebrate after defeating Zimbabwe in the first ODI of the tri-series in Harare on Monday
Photograph: SLC/Twitter