Yusuf Pathan's spectacular ton (123 not out) helped India register a comprehensive five-wicket win against New Zealand in the fourth One Day International at the Chinnaswamy Stadium in Bangalore on Tuesday.
The home team has already clinched the series by winning the first three matches in Guwahati, Jaipur and Vadodara respectively.
Chasing a formidable 316 to win, the home team eased through with seven balls to spare. It was India's fourth successive win over New Zealand in this series and kept them on course for a whitewash.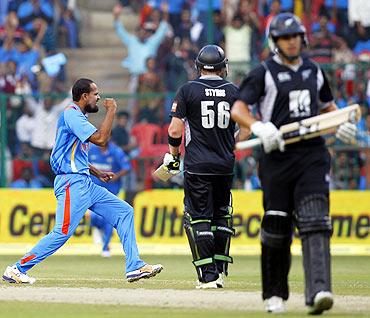 It was Pathan's maiden one-day hundred. His 96-ball blitzkrieg was inclusive of seven hits to the fence and equal number of hits (all mighty heaves) over it.
Considering he was also India's best bowler earlier in the day (three for 49), there was not an iota of doubt when he was named the man-of-the-match.
More importantly, he was involved in two crucial partnerships that helped India recover from 108 for four at one stage. Pathan first added 80 runs for the fifth wicket with Rohit Sharma (44).
Then, he and Saurabh Tiwary put on 126 runs in an unbroken stand that came off just 90 balls and carried India home.
Tiwary made 37 off 39 balls. His knock was inclusive of three boundaries and a maximum, the latter ensuring the match in India's favour.
Earlier, a resolute half century by James Franklin (98 not out) helped New Zealand to a formidable total. The visitors made 315 for seven in their stipulated 50 overs, in what was by far their best batting effort in the series.
And no player deserves more credit for the same than Franklin. For a player sans a significant innings in his 74 matches prior to this tour, the 30-year-old has been a revealation with the bat.
His 69-ball knock was a belligerent one and was inclusive of 12 hits to the fence and three huge ones over it.
It was the second successive half-century for Franklin following his unbeaten 72 at Vadodara. It also happened to be his second career fifty.
Needless to say, it was his highest ODI score
The New Zealand innings was defined by three partnerships: the opening stand of 62 between Brendon McCullum (42) and Martin Guptill (30) that laid the foundation of the innings was backed by a 79-run fourth-wicket stand between Scott Styris (46) and Ross Taylor (44) that helped build on the foundation.
And then there was the fighting unbeaten 64-run partnership for the eighth-wicket by Franklin and Nathan McCullum (13 not out) that helped the visitors finish on a strong note, after they were struggling to bat out their quaota of overs (at 251 for seven) at one stage.
Yusuf Pathan was India's most successful bowler with figures of three for 49.
R Ashwin and Ashish Nehra chipped in with two wickets apiece. However, both were expensive, giving away 66 (in 10 overs) and 70 runs (in nine overs) respectively.
In fact the 22 runs that Nehra conceded in the final over of the innings gave the New Zealand innings the fillip it required and ensured the visitors went into the second session with an advantage.
They had indeed set the hosts a daunting task. Only their hosts were upto it.
New Zealand innings:
The Kiwi inning began with a flurry of extras.
Six extras were conceded in Zaheer's first over (all wides) before Praveen Kumar too began the second over with a wide.
Guptill smashed the first two legitimate deliveries off Kumar to the midwicket fence before McCullum  announced his arrival by smashing the fifth ball over covers.
Having hit Zaheer for two boundaries thereafter, the New Zealand stumper then smashed Kumar over mid-on for a maximum.
The initial onsluaght from the Kiwis forced the Indian captain to introduce spin in the eighth over - in the form of R Ashwin - in a bid to restrict the batsmen.
The move though boomeranged, with Ashwin going for 11 in his first over with both Guptill and McCullum helping themselves to the fence, the latter's shot ensure his side pass the 50-run mark.
Nehra came into the attack in the next over and Guptill welcomed him with a couple of boundaries, both wide of mid-on.
However, the batsman's extravagance cost him his wicket, Yuvraj Singh catching him at cover. Nehra had provided India the breakthrough in his first over.
Guptill's aggressive 25-ball knock was inclusive of five hits to the fence. More importantly, he helped McCullum put on 62 runs for the opening wicket in under 10 overs, in what was New Zealand's best start in the series.
However, his departure put the speedbreakers on what was till then smooth progress.
Nehra struck again in his second over having Jamie How (4) caught by Yusuf Pathan at first slip. Ther same over ended up being the first maiden of the innings.
McCullum manufactured a few boundaries but couldn't sustain for long. Ashwin had him caught by Rohit Sharma at short midwicket in the 14th over to ensure India regained control of the match.
It was a timely reward for Ashwin, who had been expensive till that point.
McCullum's run-a-ball 42 was inclusive of eight hits to the fence and one over it. And thanks to his and Guptill's initial onslaught, the visitors were scoring at over six-runs-per-over at the 20-over mark.
And Taylor and Styris slowly but steadily put together a partnership that not only rebuilt the innings but also helped the visitors build on the solid foundation laid by their openers.
The duo put on 79 runs for the fourth wicket before Styris was caught by Saurabh Tiwary at midwicket off Yusuf Pathan.
The veteran's 48-ball 46 was inclusive of three boundaries and a maximum off Yuvraj.
In came James Franklin and he was a decent support for Taylor. With the latter struggling with his form, it was upto Franklin to help New Zealand brake the shackles.
And he did it with aplomb.
Having started his innings with a boundary off an outside edge (off Sharma), Franklin settled down soon before hitting Pathan for successive boundaries, the second of which, between short third man and cover helping the Kiwis surpass the 200-run mark.
The 30-year-old had settled down well. And a sweep off Sharma that beat fine leg made his intentions clear.
The visitors took the batting powerplay in the 38th over.
However, they began in the worst possible manner, Taylor getting trapped in front off Ashwin off the first ball.
It was the end of an ordeal for Taylor. Struggling with form throughout the series, the 26-year-old managed to score a 73-ball 44. However, it was a painstaking knock, one during whhich he never looked at ease and one that contained only three hits to the fence.
Despite that his fifth-wicket partnership with Franklin helped New Zealand add 40 runs, mainly thanks to the latter's aggression.
Daniel Vettori (17) announced his arrival in style, hitting Ashwin for a boundary past point.
And then Franklin took over again, a beautiful square drive off Zaheer finding its way to the fence. Another hit wide of midwicket fetched him three more runs.
Nehra replaced Zaheer but Franklin was at it again, hitting wide of midwicket for a well-placed boundary. A boundary over mid-on off Ashwin brought Franklin close to a second successive half century.
He was fortunate to survive at this juncture when Pathan dropped him off his own bowling. However, the bowler atoned for his blemish in the same over by cleaning up Vettori.
The New Zealand captain's brief stay at the crease saw him hit two boundaries. More importantly, he helped Franklin put a quickfire 39-run partnership (off 35 balls) for the sixth wicket.
Pathan struck again in his next over, rattling the stumps of Kyle Mills (1), even as the visitors found themselves in a precarious position - they had the overs to take their total past 300 but they were falling short of wickets.
Franklin reached his fifty with a single off Ashwin and celebrated the same by smashing the spinner over extra cover for a maximum.
The 47th over, Pathan's ninth, was a fruitful one for New Zealand, 12 runs coming off it with both Franklin and Nathan McCullum helping themselves to boundaries.
And it was all New Zealand thereafter with the duo putting on a solid eighth-wicket partnership - 64 runs off 33 balls - to ensure their bowlers had a little pressure taken off them.
Franklin, in particular, was at his majestice best, picking up 22 runs off Nehra's final over inclusing a couple of boundaries and maximum.
Thanks to his aggression the visitors rattled up 63 runs in their last five overs to take the psychological edge going into the second innings. 
Earlier, India won the toss and opted to field first.
"We have been chasing very well, and hopefully we can contain New Zealand," reasoned Indian captain Gautam Gambhir.
There were three changes to the Indian squad that won in Vadodara, stumper Parthiv Patel coming in for Wridhimann Saha, Saurabh Tiwary coming in place of Ravindra Jadeja and Munaf Patel making way for Praveen Kumar.
There were a couple of changes in the New Zealand squad as well: with Brendon McCullum fit to keep wickets, Gareth Hopkins made way for Tim Southee while Jamie How found his way back in the squad in place of Kane Williamson.
India innings:
The Indian innings got off to an aggressive start.
It was not the in-form Gautam Gambhir (27) but the back-in-the-fold Parthiv Patel (53) who impressed early on.
After hitting Southee past the cover-point for a boundary, the stumper helped himself to two more boundaries in the fifth over by Mills.
The sixth, by Southee, witnessed Patel helping himself to a couple of more boundaries.
There were a slew of boundaries that followed, a few of them being fortunate edges, as India reached 50 runs inside eight overs.
However, Andy McKay struck soon after having Gambhir cut at point. The Indian captain made a 24-ball 27, with four boundaries, and put on 67 runs for the opening wicket with Patel.
Virat Kohli (0) survived two balls before giving a simple catch to Mills at long-leg. Kohli's duck was particularly disappointing conisdering the batsman had made fifty-plus scores in his four previous innings.
And McKay's twin strikes in the 10th over meant suddenly there was a spring in New Zealand's steps. The Indian scoring palpably slowed down thereafter. The innings that had witnessed 11 boundaries in the first 10 overs, saw just two more in the next six before Yuvraj Singh (20) smashed Styris over midwicket for a maximum.
Patel reached his first ODI half century with a single in the same over. At the drinks break (after 17 overs), India had made 100 for two.
In the first over after resumption, Yuvraj hit a Nathan McCullum delivery straight to How at short midwicket and the home team was back in trouble.
And Rohit Sharma was fortunate to survive off Daniel Vettori, umpire Amish Saheeba ruling the batsman not out when it was a clear caught behind.
However, McCullum struck again in the next over having Patel caught by Kane Williamson. The stumper's 57-ball knock was inclusive of eight hits to the fence.
Sharma celebrated his reprieve with a massive six offf McCullum. And Pathan joined the party with a flat six off Vettori.
The duo made a good recovery for India, putting on an 80-run partnership for the fifth wicket - off just 83 balls - before Southee had Sharma caught by Vettori at mid-off.
Sharma's 48-ball 44 was inclusive of four hits to the fence and one over it.
There was a brief rain interruption. India were 17 behind as per the Duckworth-Lewis method at the stage.
And as play resumed, Pathan smashed the first ball off Vettori for a maximum to bring up his half-century. Another boundary off McCullum in the next over helped him reach his highest ODI score.
Batting powerplay was taken in the 39th over and Pathan welcomed it with a massive six off Mills, his fourth of the innings.
In the next three overs, the Kiwi bowlers cramped the Indian batsmen for room and thereby restricted the flow of runs. 
However, in the final over of powerplay Pathan cut loose, helping himself to three boundaries and a maximum. And he was fortunate to survive when McKay dropped him at short fine-leg.
The over cost Mills and New Zeland 21 and ensured India had a productive powerplay - with 44 runs off five overs. It also helped Pathan get close to his hundred.
And he smashed McKay for a maximum in the first ball of the next over to reach his maiden one-day ton.
Another maximum off Southee helped India cross the 300-run mark.
It was a matter of a few balls before the home team rattled up the remaining runs.