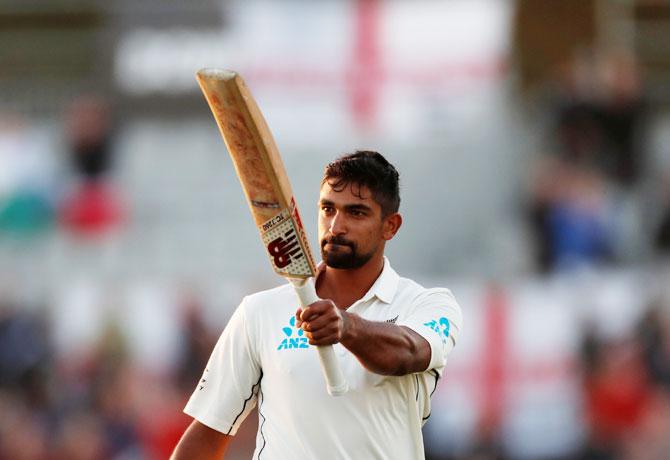 IMAGE: New Zealand's Ish Sodhi celebrates at the end of the 2nd Test against England at Hagley Oval, Christchurch on Tuesday. Photograph: Paul Childs/Reuters
New Zealand have overtaken Australia to take third position in the ICC Test Team Rankings after the Christchurch and Johannesburg Test matches, which has resulted in them getting a bigger purse from the International Cricket Council at the extended cut-off date of April 3.
New Zealand's 1-0 series win over England and Australia's 3-1 loss to South Africa have resulted in both teams finishing on 102 points in the team rankings.
However, New Zealand are ahead by a thin margin, as they are now on 102.263 points and Australia are on 102.2 points.
The change in rankings means that New Zealand will now get a prize money of $US 200,000 for finishing third while Australia will have to be content with $US 100,000.
South Africa had already assured themselves of the second place after having taken up a 2-1 lead in the series since only Australia could overtake them in the team list.
Australia needed to win 3-0 or better to overtake South Africa while they had to avoid losing 3-1 or worse to ensure that neither New Zealand nor England could overtake them.
India have already been presented with the ICC Test Championship Mace and a $US1 million prize money after they sealed the top spot following victory in the Johannesburg Test against South Africa in January. South Africa had won the series 2-1.