Virat Kohli's unbeaten 56 off 47 balls, Yuvraj Singh's explosive 35 off 18 and a clinical bowling performance helped India beat Sri Lanka by five wickets and storm into the final of Asia Cup.
Kohli also equalled the record of Chris Gayle and Brendon McCullum for the most number of fifties in T20 cricket.
Statistician Rajneesh Gupta has interesting numbers from the match. Check them out.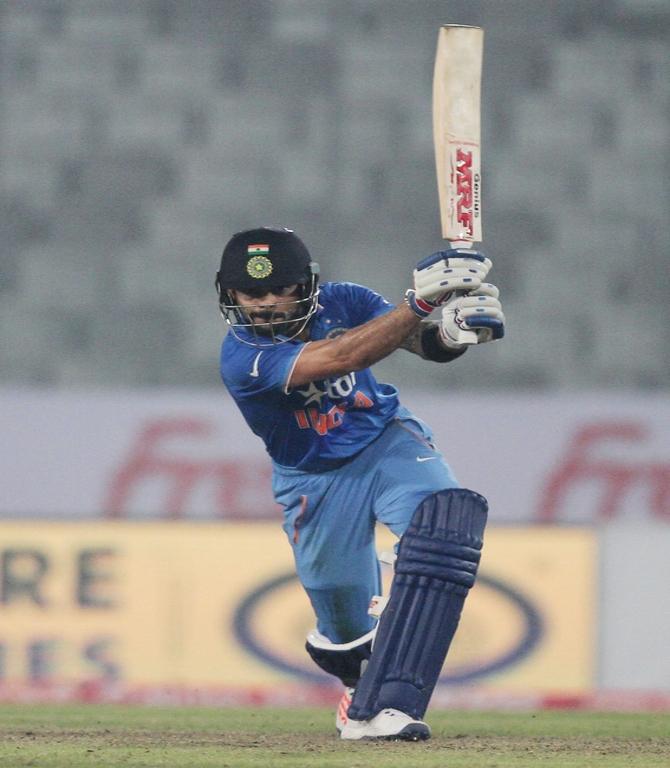 Image: Virat Kohli picked his fourth man of the match award this year after a match-winning half century against Sri Lanka in the Asia Cup. Photograph: Solaris Images.
2 Number of wicketkeepers to effect 50 dismissals in Twenty20 Internationals. Mahendra Singh Dhoni joined Pakistan's Kamran Akmal, who effected 60 dismissals in 54 matches. Dhoni now has 52 in 61.
3 Number of Twenty20 Internationals played by Virat Kohli against Sri Lanka. He scored a fifty in all of them -- 68 at Pallekele in 2012, 77 at Mirpur in 2014 and 56 not out in this match.
47 Runs scored by Sri Lanka in the first 10 overs -- the least they have scored at this stage against India. This was also their fourth lowest score against any side after 10 overs.
7 Number of man of the match awards Kohli has won -- the most by an Indian, with Yuvraj Singh. Four of these awards have come this year only!
51.03 Kohli's average in Twenty20 Internationals -- the highest for any batsman having played 10 or more matches in this format.
13 Number of fifties scored by Kohli in Twenty20 Internationals -- most by any batsman, with Brendon McCullum and Chris Gayle.
5 Number of Twenty20 Internationals won by India on the trot. Only once have India had a longer winning streak -- of seven matches -- between 2012 and 2014. They also won five consecutive matches in 2007.
8 Number of Twenty20 Internationals won by India in 2016 -- the most they have won in a calendar year (and we are just in to second month of 2016!). India also won eight games in 2012 (out of 14 matches).