'Some players in that team sucked up to the coach and would supply selective misinformation, creating bigger rifts.'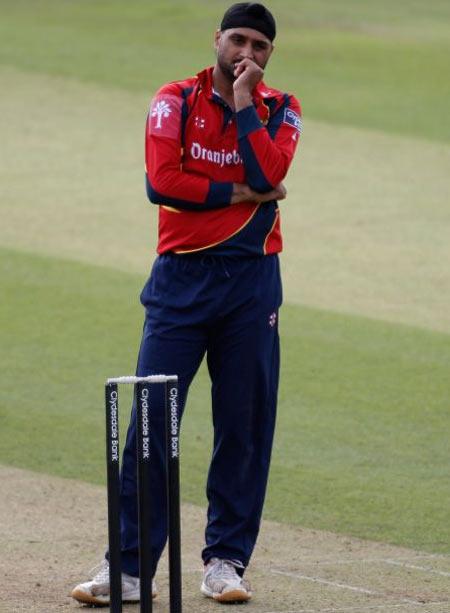 Harbhajan Singh. Photograph: Harry Engels/Getty Images
Sachin Tendulkar's claim that Greg Chappell was a dictatorial coach seems to have opened a Pandora's box, with his then teammate and senior off-spinner Harbhajan Singh saying that some players in the side provided "selective misinformation" to the Australian in a phase which "temporarily destroyed Indian cricket".
- Chappell tried to finish my career: Zaheer Khan
- 'Surprised' Chappell denies Tendulkar's claims
- 'Chappell suggested I should take over the captaincy from Dravid'
"Chappell destroyed Indian cricket to such an extent that it required at least three years to again get back on track. The worst part was that some players in that team sucked up to the coach and would supply selective misinformation, creating bigger rifts," Harbhajan told PTI, after excerpts of Sachin Tendulkar's autobiography, Playing It My Way, described Chappell as a "ringmaster".
Asked about his claim that a few players used Chappell for their gain, Harbhajan replied: "When the right time comes, the names will be revealed. Some people thought that just blindly following Chappell would do them a world of good without realising that Indian cricket was going nowhere."
'Sourav was batting in the middle and Chappell was typing a critical e-mail against him'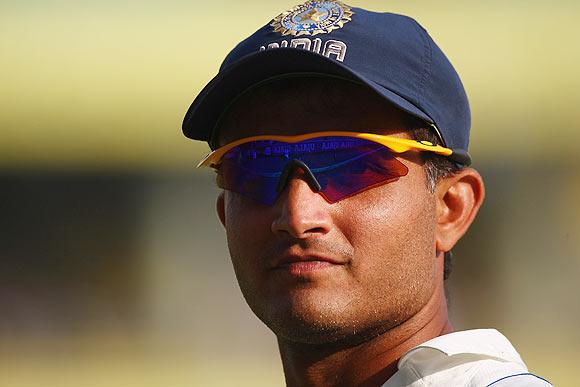 Sourav Ganguly. Photograph: Michael Steele / Getty Images
Harbhajan also made another shocking revelation that Chappell had written an e-mail to the BCCI about former skipper Sourav Ganguly, when the team was in the midst of a Test match against Zimbabwe in Bulawayo.
"Sourav was batting out there in the middle and this man was typing a critical e-mail against Sourav, sitting right there in that dressing room. He had no interest in the proceedings of the match. How did I get to know? I was sitting next to him and had a suspicion. Once he went to the washroom, I peeped into his laptop and the mail was lying open. I was stunned to see the contents," Harbhajan said.
"Once Sourav came back I told him about this e-mail and he seemed unaware and equally shocked.
"There were seven guys that he wanted to get rid of. Sourav was his primary target, followed by myself, Virender Sehwag, Ashish Nehra, Zaheer Khan and Yuvraj Singh," claimed Harbhajan, India's third highest wicket-taker in Test cricket.
Harbhajan went on to say that there was a lack of trust among the players in the dressing room during Chappell's time.
'He imported negativity with his stature'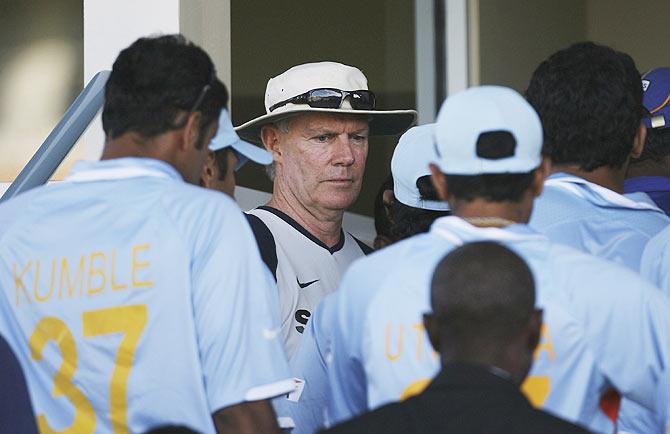 Greg Chappell. Photograph: Clive Rose/Getty Images
"He was supposed to take India to the next level in international cricket, but during that phase, at one point of time, we were playing like Under-14s.
"It was a time when during tours we were scared of each other. We couldn't confide our feelings, anguish or despair because we could not simply trust each other. The atmosphere was so claustrophobic," said the feisty cricketer.
Harbhajan recounted Chappell's behaviour during India's victorious Test at Kingston back in 2006.
"In the first innings, West Indies were out for 103 and I took 5 for 13. When we came back to the dressing room, there wasn't even a pat on the back or 'well bowled'. Instead, he congratulated another bowler I don't wish to name. It was insulting. He always had a target of dropping me, but, unlike others, he couldn't do that with me. His anger? Because I stood by Sourav when he (Chappell) was taking it on him.
"Sourav built an Indian team between 2001 and 2005 while Chappell destroyed it entirely.
"He used players against each other, used erstwhile BCCI officials according to his needs, created an atmosphere which no one would wants to remember. He imported negativity with his stature," Harbhajan added.
This is not the first time that Harbhajan has voiced his opinion against the former India coach.
In 2005, the spinner was reprimanded by the BCCI for accusing Chappell of creating "fear and insecurity" among the players.