Kolkata Knight Riders' all rounder Laxmi Ratan Shukla said no side could be labelled as favourite in the IPL and teams would underestimate rivals only at their own peril.
-IPL 6: How the nine teams measure up
-MCA ban on Shah Rukh Khan stays, say officials
"Having seen it for the last six years, we all are used to the pressure. This is something we enjoy the most. Last season is history and we are looking to start it afresh. T20 is high intensity game. There are no favourites here. You can't predict or take the risk of underestimating a team in the format," Shukla said.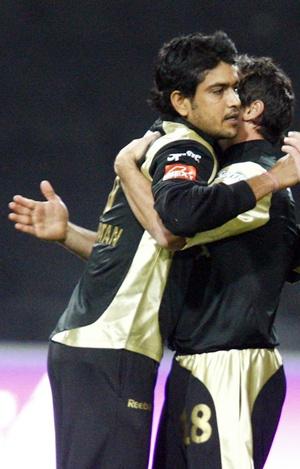 Shukla said his side was confident of making a good start to the defence of their title when they will take on Delhi Daredevils in the tournament-opener on Wednesday.
"We always have a good record against Delhi Daredevils. We hope to start on a winning note," he said.
In the last season, KKR lost the first match to Delhi but won the return leg before ousting them in the eliminator for a place in the final.
Shukla said the team would miss Wasim Akram but at the same time they were looking forward to Brett Lee who has donned the Pakistani great's role of bowling mentor.
"Lee always has been a big help. He is a class bowler and has very good leadership ability. We all are looking forward to his contribution.
"Wasim bhai is somebody who is going to be missed always. There is no second thought about that. But he has some family issues (he's missing his son). But he has told us that he might join us if we make the CLT20."
Photograph: Siphiwe Sibeko/Reuters