'Virat suffered a neck sprain during an IPL match in Jaipur.'
No county action for injured Virat; fitness test on June 15.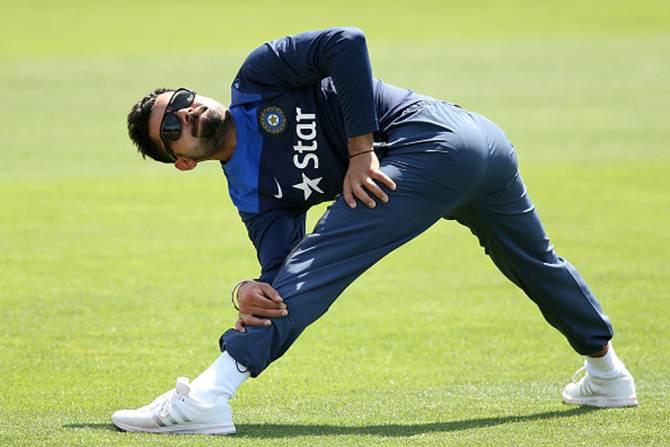 India Captain Virat Kohli's participation in the English county championship was, on Thursday, ruled out due to a neck injury, throwing his meticulously planned build-up for the tour of England into disarray.
Kohli will require three weeks of rehabilitation to recover from the injury, the Board of Control for Cricket in India confirmed.
The 29 year old will undergo a fitness test on June 15, which will confirm his availability for the initial phase of the limited-overs tour starting with the two T20 Internationals against Ireland in the last week of June.
India begins the series against England with T20Is in early July.
'Team India Captain Mr Virat Kohli suffered a neck injury while fielding during Match 51 of the VIVO IPL between Royal Challengers Bangalore and Sunrisers Hyderabad on 17th May 2018 at M Chinnaswamy Stadium, Bengaluru,' BCCI acting secretary Amitabh Choudhary said in a press release.
'Mr Kohli, who was scheduled to play for Surrey CCC in the month of June, has been ruled out from participating. This decision was taken following assessments by the BCCI Medical team, subsequent scans, and a specialist visit,' the release further stated.
The skipper will now undergo a period of rehabilitation under the supervision of the BCCI medical team.
He will begin training and subsequently undergo a fitness test at the National Cricket Academy in Bengaluru on June 15.
'The BCCI medical team is confident that Mr Kohli will regain full fitness ahead of India's upcoming tours to Ireland and England,' Choudhary stated.
Kohli had decided to miss the one-off Test against Afghanistan, starting June 14 in Bengaluru, to appear in county matches.
He visited a hospital in Mumbai for a check-up, on Wednesday, and it was reported that he was suffering from a slip disc injury.
However, a top BCCI official, who is privy to Kohli's county engagements, clarified that it was a case of 'neck sprain' and not a 'slip disc injury' as reported.
"Yes, Virat has had fatigue issues and this is a case of workload management rather than injury management. But it isn't a case of slip disc. As of now, we will be monitoring his workload," the senior official said, speaking on condition of anonymity.
Kohli had been tagged by Sports Minister Rajyavardhan Singh Rathore in a social media campaign and he had posted a video of him working out in the gym in response.
Asked why the skipper visit a spinal surgeon in Mumbai, the BCCI official said: "Virat had suffered a neck sprain during an IPL match in Jaipur (RCB's final game). The pain had subsided, but he went for a precautionary check-up."
There is no denying that Kohli has had tremendous workload during the past year starting June 2017.
In this phase, he appeared in 9 Tests and 29 of the 32 ODIs that India played.
He also played 9 out of India's 18 T20 Internationals.
In all, he played 47 international matches with only Rohit Sharma and Hardik Pandya (48 each) playing a match more than him.
Add to it, the 14 IPL matches and his tally goes up to 61 in all.
The one question that begs to be answered is why did Kohli not rest himself from a few matches during the IPL?
The BCCI has already put a programme in place where the centrally contracted cricketers' workload and injury management is monitored through the National Cricket Academy.
The franchise physios and trainers are supposed to give weekly updates to the national team trainers and the ones present at the NCA.
© Copyright 2022 PTI. All rights reserved. Republication or redistribution of PTI content, including by framing or similar means, is expressly prohibited without the prior written consent.