'The amount they have given to English cricket, it's a special cap to receive. What excites me more is this 100th game being the start of a huge series for us as well. There is no bigger occasion than starting a series in India, against a No.1 team in the world'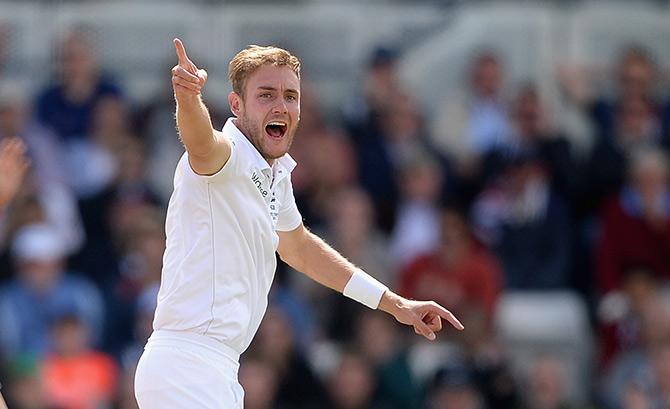 IMAGE: England's Stuart Broad successfully appeals for a wicket. Photograph: Gareth Copley/Getty Images.
England are quite familiar with the Decision Review System (DRS) but they have to be very cautious while opting for referrals in the upcoming series against India due to different conditions here, Stuart Broad said.
The fast-bowling all-rounder said conditions in England and Bangladesh, where they drew series 1-1 before coming to India, were different from Rajkot.
"We had a lot of referrals over there. We have got to be quite clear with the communication, It's a bit different with the ball spinning in India rather than it seaming and swinging in England, so it is a bit hard to judge," Broad said.
"It will play a big part in this series. One thing is sure you are in danger of being hit on the path because DRS brings in the opportunity to overturn decisions. So I really enjoyed playing with it. You get right decisions a lot of the time. But communication within the team is so vital for it.
"We are looking for the wicketkeeper and the bowler to make quite stronger opinions on it and obviously Cooky (Captain Alastair Cook) will take over and go with the gut feeling. We could have done well in Bangladesh. In Dhaka we wasted a couple," he remarked.
Broad, who is set to complete the milestone of 100 Tests, said England are going into the five-Test rubber as huge underdogs.
"We are coming as massive underdogs, there's no doubt about that. Obviously, India has got to number 1 in the world and played some brilliant cricket here, so we're very aware that it's a huge challenge. But it's pretty exciting as well, we're not really sure what to expect," Broad said.
Talking about his upcoming milestone, Broad said what excited him more was it was to happen in a huge series and against the world's top-ranked side.
"I am aware how special an achievement it is because of the players that have come before me. The amount they have given to English cricket, it's a special cap to receive. What excites me more is this 100th game being the start of a huge series for us as well. There is no bigger occasion than starting a series in India, against a No.1 team in the world.
"It's great to get a milestone being in such an important game because we know how vital it is to start these tours well," said Broad, who is on his third full Test tour of India.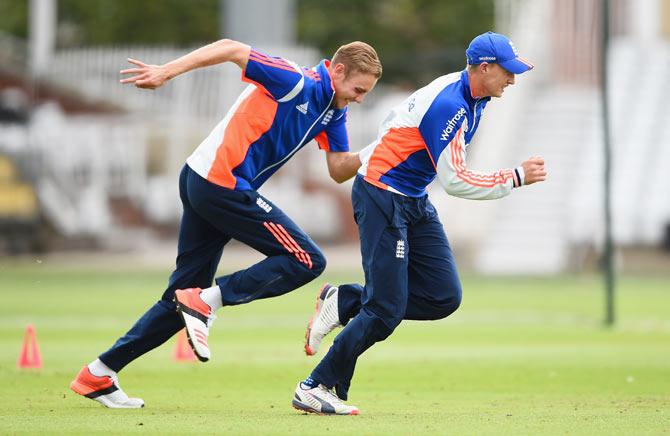 IMAGE: England's Joe Root and Stuart Broad run a race during a nets session . Photograph: Laurence Griffiths/Getty Images.
Asked about the team's mindset after suffering its first ever Test defeat against Bangladesh before crossing over into the country, Broad said their players would like to express themselves well here.
"We have beaten India, I think, three times on bounce in a Test match series. We are aware that it's a tough place to come and play cricket but also we have got nothing to fear because not many of us have actually played cricket over here.
"So, that's positive in the fact that you can go out and play natural games and take the game to India. But also, we will have to learn quickly.
"It was a tough experience losing 10 wickets in that one session in Dhaka and actually confidence is tricky one to know because we have not had warm-up games here. It's been a very net-based thing which can be a good thing as in each batsman has been very close to with the batting coaches and talked a lot to Saqlain (Mushtaq) about spin bowling and stuff.
"So it's been a very direct training, very focused training, rather than getting out in the middle, 'let's get our technique right and hopefully that will look after us this week."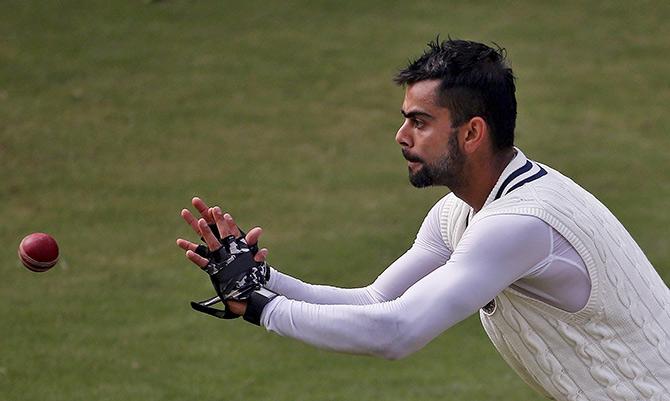 IMAGE: India's Test captain Virat Kohli prepares to catch the ball during a practice session. Photograph: Anindito Mukherjee/Reuters.
He also talked about the positive impact of playing a five-match series.
"The advantage of a five-match series is you do get a lot of time to learn from experience. I think it was four the last time around and we lost the first one. But learned so much in those conditions and took that forward and won the next two and drew the last one. So in a five-match series, you have chance to make a mistake, if that makes sense.
"Like we did last time, India beat us at Lord's and we won the last three Test matches to win the series. So, it does really give you chance to assess conditions and get used to them a lot.
"But downside is you play five Test matches in six weeks I think. If you are not in the 11, if you are not playing it doesn't give you lot of opportunities to play cricket elsewhere, does it?" he added.
He said he considered himself as a seam bowler first and not as an all rounder.
"I have always seen myself as a frontline seamer. My dream is to try and get the new ball for England because that's when you become more of a strike bowler, that's the best chance to make impact on games. I am only 30. I hope to play for a long time.
"I certainly want to have the opportunities to score a lot more runs, and hopefully that will come in the series. It is something I see as a momentum change rather than somebody who is going to have some big numbers behind them," he said as explanation to his pretty dismal record with the bat.
He also felt reverse swing will be a key factor.
"You look at teams that have come here and won - Australia had Kasprowicz, Gillespie and McGrath, our last tour here with Jamie (Anderson) - I think he took 20 wickets. (Dale) Steyn took 26 wickets here with a huge amount of reverse swing. It's going to be our biggest armory. But also that new ball is a bit like Dukes, you can make breakthroughs with it as well."