'With the tours of South Africa, Australia and England coming up, all I can say this will be better cricket team after those 18 months'
'If it is going to be tough for our batsmen, our job is to make it tough for their batsmen as well'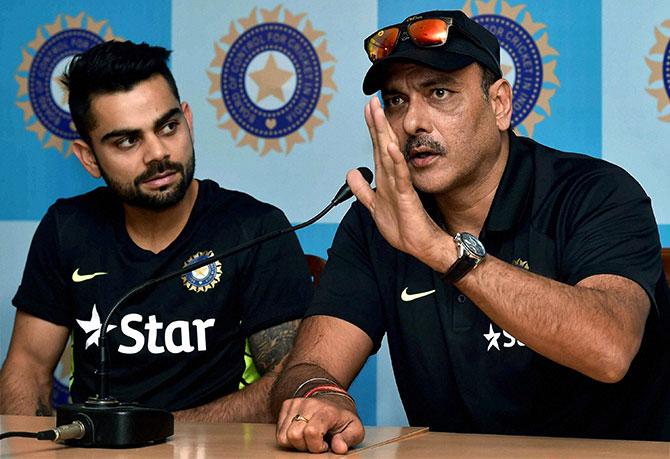 IMAGE: IMAGE: The Indian cricket team's coach, Ravi Shastri, and captain Virat Kohli interact at a media conference. Photograph: PTI
After dishing out dominating performances during the long-stretched home series, the Indian players are set to be challenged in overseas conditions in 2018 and chief coach Ravi Shastri says the next 18 months will define 'this Indian cricket team'.
Shastri said the team is aware what lies ahead for them on the tours of South Africa, England and Australia.
The coach reckons that the nucleus of the team has remained the same in the last few years and that will help players in embracing the challenges ahead.
"The fact that they have been together for the last four five years, that experience will stand them in good stead, that's for sure. The conditions will be testing, but like I have said before, this one and half years will define this Indian cricket team and the whole team is aware of that," Shastri said.
"With the tours of South Africa, Australia and England coming up, all I can say this will be better cricket team after those 18 months," Shastri said at the pre-departure press conference along with newly-wed captain Virat Kohli.
The Indian team pummelled Sri Lanka in the just-concluded series and before that enjoyed success against Australia, England, New Zealand and Bangladesh at home.
The ability of the Indian batsmen in pace and bounce friendly pitches becomes talking point during the abroad tours and Shastri said Indian pacers too have a job at hand.
"If it is going to be tough for our batsmen, our job is to make it tough for their batsmen as well."
The chief coach also urged the players to embrace the challenges with aplomb and insisted that the team's preparation has been good.
"It's going to be a challenge. We all know how tough a tour South Africa is but that's the beauty about their profession. Wanting challenges and embracing and that's what we are looking for."
"We toured Australia three years ago and we did a pretty good job. We did well in England, Sri Lanka in 2015 had some great tracks, specially the last two Test matches where the bowl seamed and swung, so the preparation has been good and these boys have been on the road together for the last four-five years, the same team pretty much, the nucleus has been the same, so that should help a long way," Shastri said.
Asked if Jasprit Bumrah, who has proved his utility in limited-overs formats, could be successful in Tests as well, Shastri seemed very optimistic."
"In 50-over and 20-20 he has shown how good he is. He is one of the best in the world and it is acknowledged by his opponents. He has also shown he is a quick learner. When he has played for Gujarat, he has done well.
"He has taken five-wicket hauls, six-wicket hauls and run through oppositions. His confidence level is high and is a good time to get him in," Shastri said.