They (Mumbai) had a young 17-year-old (Arman Jaffer), who batted really well: Ronchi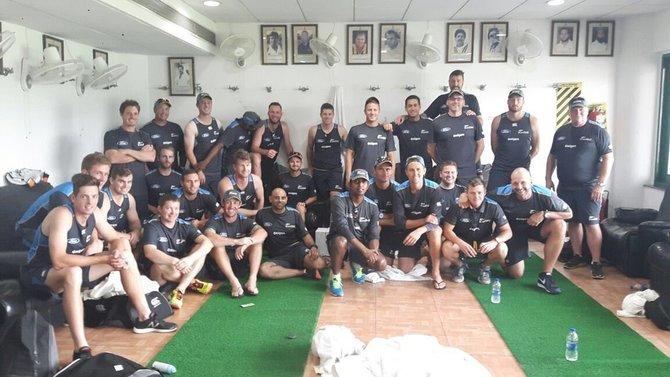 IMAGE: New Zealand team after their warm-up tie against Mumbai in New Delhi. Photograph: New Zealand Cricket.
New Zealand wicketkeeper-batsman Luke Ronchi has no qualms in saying that Mumbai, in the warm-up match, showed the visitors how to play in Indian conditions and they will have to play better to beat the hosts in the upcoming Test series.
Ronchi felt there were more positives than negatives to take out of the only warm-up match of the team's India tour.
"I think getting used to the wicket which was changing over three days (was one takeaway). It was deteriorating a bit with guys facing more spin towards the end and ball doing a few different things. Mumbai bowled and batted really well.
"I think we got some learnings from that. When they took us on in the final session yesterday, we were not able to pull off our game plans. There are lot of positives, couple of little negatives to sort out. We have a big series coming up and there will ups and downs," said Ronchi.
The back-up opener smashed 107 off 112 balls on the third and final day of the game here today, making his case for selection in the first Test to be held in Kanpur from September 22.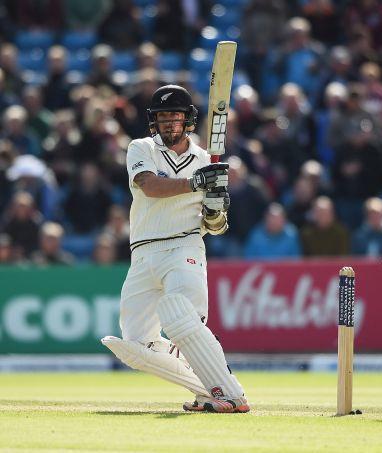 When asked whether their morale was affected after leaking 402 runs on Saturday, Ronchi's reply was a firm no.
"And we were playing in foreign conditions and they (Mumbai) know their conditions. The way they batted was (really good). They had a young 17-year-old (Arman Jaffer), who batted really well. They showed us how you can play on these wickets.
"Spin is a big thing and they took our spinners down later in the day. They showed us what can be done on these wickets. They played brilliantly. We got to play better to bowl teams like these out and even better if we want to beat India," said Ronchi, who has also represented Australia in international cricket.
The 35-year-old played his only Test in May-June last year. With the hundred today (Sunday), he has put the team management in a selection dilemma. As coach Mike Hession pointed out early, Ronchi is here as a back-up opener and could replace the out of form Martin Guptill for the first Test.
Asked about the chance of being picked in the XI, Ronchi said it was the decision of the team management.
"It was just a position given to me for the second innings, to go out and open. I just wanted to have a hit and do as best as I possibly could. If it (if he is selected) comes up, I would certainly not say no, but you never know what Hessson and Kane (captain) are thinking.
"So I just go about my business and do the best I can when given a chance. If I am not playing, I am not playing. If I have to bat at 11, I would be happy to do that as well," he said.
Like some of the other New Zealand batsmen, Ronchi attacked the spinners from the word go. Was that part of his game plan?
"I think each batsman as his own game plan for bowlers and how they play them. My game plan is to try and get off strike. With the field in, then I try to hit them out. A couple over the top(big hits) and there are a few more gaps.
"That is how I pretty much go about my batting. If it works then fantastic, obviously it is not going to work all times. I think the best way to bat sometimes is to be at the other end. Get yourself off strike, it is a good thing," he explained.
Ronchi further said that the lower-order showed that they were capable of contributing in these conditions.
"I think they are very capable of doing that. In the Test matches, we are going to need everyone to contribute to win games. So the more you can gain from this sort of situation, the more you can bat with them and talk to them while they are batting, you can learn some things, you might be able to teach a few things as well."
The Kanpur Test will be India's 500th in the longest format.
"Being part of cricket in India in general is pretty awesome. 500th Test is pretty cool as well," said Ronchi when asked about the occasion.
IMAGE: Luke Ronchi of New Zealand in action.
Photograph: Laurence Griffiths/Getty Images.