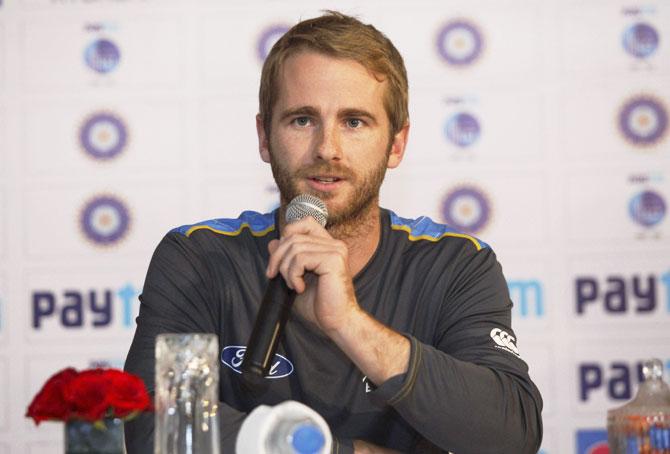 IMAGE: New Zealand captain Kane Williamson addresses a press conference in New Delhi on Tuesday. Photograph: PTI
New Zealand captain Kane Williamson and coach, Mike Hesson, opined that it will be a "bit of scrap" for the batsmen to face Ravichandran Ashwin & Co. while their own spinners need to adapt quickly to the SG Test from kookaburra ball.
"In the previous series, spin played a huge part. At times batting was difficult. No doubt it will be bit of a scrap. We have three very good spinners as well. It will be a challenge. Playing India at home is one of the toughest challenges. As a team we are excited to get involved," said Williamson.
Coach Hesson said that it is difficult to replicate the spin-friendly conditions of the sub-continent back in New Zealand.
"Look, we spent a lot of time in Bulawayo(Zimbabwe). It was a spin-dominant series (vs Zimbabwe) and the wickets were slow and similar pace of what we get in India. Replicating those conditions at home is difficult."
Hesson is hopeful that New Zealand spinners like Mitchell Santner and Ish Sodhi will be able to adapt to the 'SG Test' ball from the 'Kookaburra'.
"Look, there have been a number of overseas spinners who done have well in these conditions. Our spin group is young and the challenge is adjusting to a different ball to 'SG Test' from 'Kookaburra'," said Hesson.
"There are changes in seam angles. Our bowlers are not going to bowl like sub-continental bowlers but we have to create opportunities."
Talking of the roles of seasoned new-ball bowlers Tim Southee and Trent Bolt, Hesson said: "Certainly there will be element of reverse swing. Certainly you need to adapt with tactics and selection. As we get to first Test, we need to see the surface. That will be huge factor."
But the Kiwi coach reckoned reverse swing will be a huge factor.
"I think it's a huge component of playing cricket overseas. In abrasive surfaces where there's not much seam movement, we need to find another way. We are keen to get reverse in legitimate fashion. We have to work on them in coming days."