- 'We obviously having played one were quite happy to play one but for some reason it wasn't thought appropriate. Certainly not something that came from our camp.'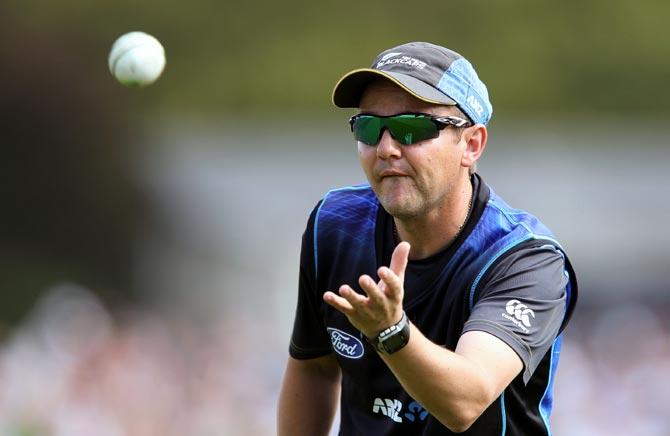 IMAGE: New Zealand coach Mike Hesson during a training session. Photograph: Hagen Hopkins/Getty Images
New Zealand coach Mike Hesson on Tuesday revealed that there were discussions on a proposed pink ball day-night Test match against India but didn't specify as to why it didn't work out.

"Look, I think there's no doubt that the Pink ball Test was discussed. We obviously having played one were quite happy to play one but for some reason it wasn't thought appropriate. Certainly not something that came from our camp," said Hesson, hinting that the Board of Control for Cricket in India were not in favour of the pink ball match.

The BCCI is still in its experimental phase at the moment with the inaugural Day-Night Duleep Trophy coming to an end on Wednesday. The Indian Cricket Board had already stated in July that it could not go ahead with the plan without testing the waters in the Duleep Trophy.

"The BCCI always maintained that it will organise a day-night Test after experimenting in Duleep Trophy. You can't go ahead with a big game like that without testing the conditions, without getting feedback from all stakeholders, including the players," BCCI joint-secretary Amitabh Choudhary had said.

BCCI president Anurag Thakur had said in April that India and New Zealand would play a day-night Test in the three-match series in September-October. However, all the matches were changed to day affairs.

With the proposed two-tier Test format being shelved, there is a debate in cricketing fraternity about whether the bilateral series is losing context.

Hesson, however, feels that one needs to find the context for their own good.

"We have been operating in the same system for some time. Every series is a new challenge. We take every series seriously. As a cricketer, you do face this challenge. Every cricket player wants to play a format that has context, every series you play needs to mean something," said the Black Caps coach.

Hesson is also happy with the working relationship that he shares with skipper Kane Williamson, who he believes has seamlessly fitted into the big shoes of the talismanic Brendon McCullum.

"Seamless, I think that's the way we would like it to operate. Kane had captained 36 games before he took over full-time. Even when Brendon was captain, Kane came in during tours (as stop gap leader) and it was a seamless change.

"I believe the key to captain-coach relationship is using each others' strengths. Brendon was more high profile while Kane likes to take his own time and take a slightly back seat."