BCCI CEO Rahul Johri is confident that the proposed Futures Tours and Programme (FTP) will give "meaningful context" to bilateral T20 Internationals -- a marked departure from the usual one-off matches.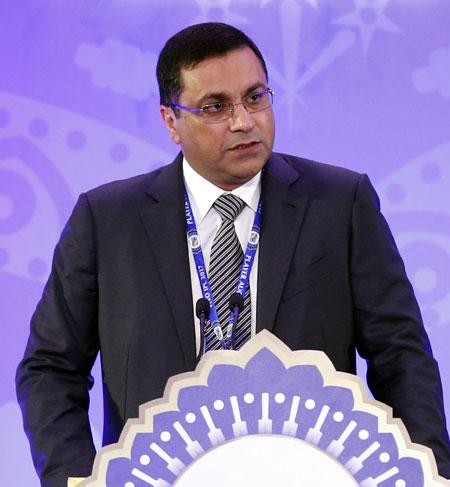 Johri presented a proposed FTP that has 81 international matches at home in the next five-year cycle, including 27 T20s.
India will play 53 T20 Internationals in this phase which includes 26 away matches as well. "We discussed with everybody and the feedback that we got was that one-off T20 means nothing. If there is a contest, there has to be context. And that is why, having meaningful T20 International contests is an approach that we have taken," Johri told PTI during an exclusive interview.
His team has worked for months on the freshly-chalked FTP, which requires an ICC approval.
With India's lucrative home TV broadcast rights deal set to come up in March 2018, the CEO is confident of a windfall like the IPL where Star India bought the rights for 16,347 crore.
"We have put together a balanced FTP which gives enough meaningful content to any potential broadcaster. Just like we had seen tremendous amount of interest in IPL media rights, we expect to see the same.
"The whole planning and everything that has taken place, we have done it keeping broadcast opportunities in mind," the CEO said.
The proposed FTP has India playing 37 Tests with 19 at home and 18 away.
"The BCCI has always been clear and committed to playing meaningful Test cricket and continue to do so. Almost half our matches are with England, South Africa and Australia. We will play everyone though. The FTP we have chalked up has enough home and away cricket."
The BCCI also wants that during the Indian Premier League, none of the other teams play any international series, which has been a convention rather than rule.
Johri is confident that even England and Wales Cricket oard (ECB), who always have some series lined up during the business end of the IPL, will come on board.
"You have to appreciate the fact that cricket calendars in northern and southern hemisphere are a bit different. While most countries in Southern Hemisphere play during the same time, it's a bit different for Northern Hemisphere," he explained.
"Now how do we navigate without impinging on someone's calendar and still get best value is the question. With ECB, the discussions are in progress. The goodwill and good faith between the boards will be paramount when we take a final decision," the CEO said.
Former skipper Sourav Ganguly has said that Day/Night Test matches are the future for the longest version.
When quizzed about his take, Johri quipped: "My job is to execute and provide the best value to the stakeholders. This is a cricketing decision and BCCI's general body prerogative. They will direct and accordingly, we will execute."
The CEO, however, did not wish to comment on the revised pay packages which can be expected for the national players.
"Our focus as the management, the professionals who are working over here in BCCI, is to deliver the maximum value to our stakeholders. How this is done is domain of the Committee of Administrators (COA) and board members. We are focussed on delivering best value. It was a freewheeling discussion with the players."
While some of the principal office-bearers have had reservations about his style of working, Johri said he shares a cordial professional relationship with everyone during his 18-month tenure on the BCCI's hot seat.
"Last 18 months have been very interesting. Of course, there have been challenges. I have a very good working relationship with everybody," he said.
Image: BCCI CEO, Rahul Johri
Photograph: BCCI