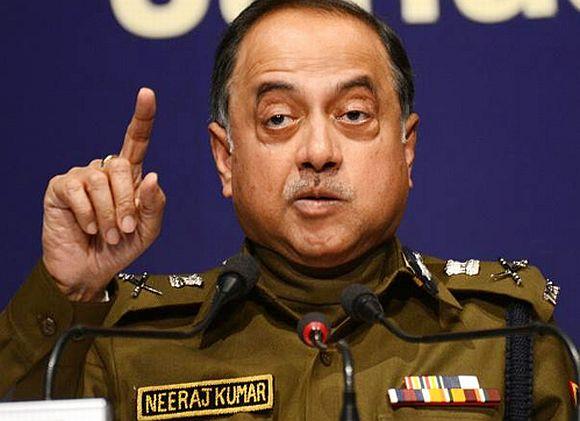 Former Delhi Police commissioner Neeraj Kumar. Photograph: Rediff Archives
Former Delhi Police commissioner Neeraj Kumar was on Monday appointed as chief advisor of the Board of Control for Cricket in India's Anti Corruption and Security Unit (ACSU) for a term of one year.

The decision to appoint Kumar to the top post was taken at the Governing Council Meeting of the Indian Premier League in New Delhi, which was chaired by IPL chairman Rajeev Shukla.

"We have appointed Neeraj Kumar as chief advisor to ACSU and he will have a term of one year," BCCI secretary Anurag Thakur said.
It was under Kumar's leadership that Delhi Police arrested former Test bowler S Sreesanth along with domestic spinners Ankeet Chavan and Ajit Chandila for their alleged involvement in spot-fixing while playing for Rajasthan Royals in the sixth edition of the Indian Premier League in 2013.
Shukla also pointed out that Sawani will continue as the ACSU boss and will co-ordinate with Kumar.

"Mr Neeraj Kumar will be the chief advisor to BCCI's ACSU and would suggest measures to strengthen our anti-corruption drive. He will be assisted by IPS officer Madhusudan Sharma. Sawani will continue in his role and would co-ordinate with Mr Kumar," Shukla said.

"Today Mr Sawani came and briefed us about what further measures be taken on strengthening ACSU measures," he added.

Former India captain Ganguly and Team Director Ravi Shastri, who are both part of the IPL Governing Council, also attended the meeting.

Thakur said that Kolkata will host the final match of the ongoing IPL. The Eden Gardens will also host one play-off match while Pune and Mumbai will be the venues of the other two play-off games.

Asked about the tragic death of promising Bengal batsman Ankit Keshri after an on-field incident in Kolkata, Thakur said, "It was a very unfortunate incident. CAB will look into matter if there was any negligence on anyone's part.

"We will discuss the issue at the Working Committee meeting on April 26 in Kolkata. We lost a youngster," he said.

The GC members observed two minutes' silence in memory of Keshri during the meeting.

Shukla also said that Ganguly gave a lot of positive suggestions in his first meeting as a GC member.

"Sourav gave suggestions about contracts, how players' payments can be uniformly chalked, how to ensure that Under-23 capped players are encouraged about taking Ranji Trophy and Test cricket seriously," said Shukla.

Asked about the 500th match of the IPL on May 3 in Mumbai, Shukla said, "We have grand plans for that day at Cricket Club of India in Mumbai."

Rajasthan Royals take on Delhi Daredevils at the Braboune Stadium on May 3.