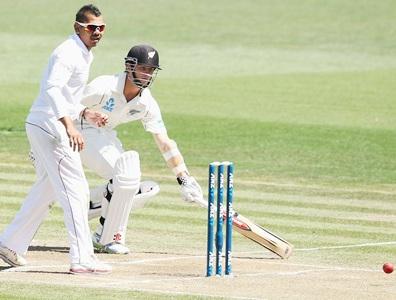 Off-spinner Sunil Narine was already indicating he would be a factor later in the game as he put New Zealand's batsmen under immense pressure on the second day of the third Test on Friday before the hosts finished on 156 for three at the close of play.
Narine, who has now taken 14 of his 17 Test wickets against New Zealand, captured the key wicket of Kane Williamson shortly before the close as the 23-year-old batsman had seemed well set with Ross Taylor to capitalise on the third day at SeddonPark.
Taylor was 56 not out, taking his series tally to 418 runs, while captain Brendon McCullum was on 11 at the close with the hosts still 211 runs behind the visitors' 367.
Shivnarine Chanderpaul had earlier brought up his 29th Test century and became the sixth highest Test run scorer of all time as he moved to 11,199 runs when he finished 122 not out after the tourists added 78 runs to their overnight 289-6 before being dismissed.
Former West Indies batsman Brian Lara is in fifth place on 11,953 while the recently retired Sachin Tendulkar tops the list with 15,921.
"We are probably behind the eight ball a little bit having to bat last on this wicket and the wicket taking some turn," New Zealand bowling coach Shane Bond told Radio Sport.
"There was a lot made of Sunil Narine coming back into the team and the variation he offers and I think the guys have found it challenging.
"For the rest of the batsmen tomorrow it's about getting set, getting in, getting a good look at him and as Ross showed you can score runs against him."
New Zealand's innings started badly when openers Hamish Rutherford (10) and Peter Fulton (11) were both dismissed by two brilliant Darren Sammy catches.
Rutherford was the first wicket to fall when drove back to the West Indies captain, who plucked the ball centimetres above the pitch on the first stride of his follow-through.
He then took a brilliant reflex catch in Narine's first over when Fulton produced a leg glance off the full face of the bat only for Sammy to somehow take the ball low down at leg slip.
Narine was causing all sorts of consternation for Williamson and Taylor before tea as the 25-year-old coaxed several false shots with his variation and flight.
The third wicket pair, however, changed their approach after the interval, rotating the strike by working the ball around the field for singles and ensuring they did not get bogged down facing either Narine or Veerasammy Permaul over after over.
Just as it looked like New Zealand would be well set to make the most of ideal batting conditions expected on Saturday, Narine trapped Williamson in front for 58.
Williamson reviewed the decision though tracking technology indicated the ball would have clipped the top of leg stump, giving the visitors a slender advantage as they seek to draw the three-match series 1-1.
"We're only a couple of hundred runs behind with Ross well set, so if we can get 100 runs ahead then it will still be difficult for them as well," Bond added
"We are going to have to play some good cricket to win this Test match... the first two sessions tomorrow are looking huge."
Image: Sunil Narine of the West Indies fields as Kane Williamson runs
Photograph: Hannah Johnston/Getty Images
Scorecard
West Indies: (first innings overnight 289-6)
K. Brathwaite c Williamson b Southee 45
K. Powell c Watling b Wagner 26
K. Edwards c Watling b Southee 6
M. Samuels c Williamson b Anderson 0
S. Chanderpaul not out 122
N. Deonarine lbw b Anderson 2
D. Ramdin c Watling b Anderson 107
D. Sammy c Watling b Southee 3
S. Narine b Boult 2
V. Permaul c Fulton b Southee 20
T. Best c Watling b Sodhi 25
Extras: lb-6, b-2, w-1 9;
Total: (all out, 116.2 overs) 367;
Fall of wickets: 1-41, 2-77, 3-78, 4-82, 5-86, 6-286, 7-296, 8-307, 9-332, 10-367;
Bowling: Boult 26-2-84-1 (w-1), Southee 28-3-79-4, Wagner 21-4-67-1, Anderson 19-3-47-3, Williamson 5-0-17-0, Sodhi 17.2-0-65-1.
New Zealand:(first innings)
P. Fulton c Sammy b Narine 11
H. Rutherford c & b Sammy 10
K. Williamson lbw b Narine 58
R. Taylor not out 56
B. McCullum not out 11
Extras: nb-2, b-6, lb-2 10
Total: (for three wickets, 64 overs)156
Fall of wickets: 1-18, 2-43, 3-138;
Bowling: Best 9-1-29-0 (nb-1), Sammy 10-5-17-1 (nb-1), Permaul 23-4-59-0, Narine 22-9-43-2.