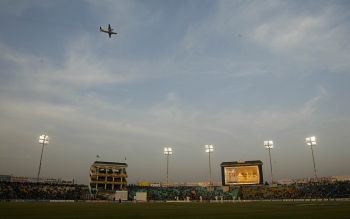 Karnataka have almost sealed their spot in the final of the Ranji Trophy, after only 36.1 overs of play was possible against Punjab on the penultimate day of their semi-final during which they consolidated their lead to 177 runs.
At stumps on the fourth day, Karnataka were 447 for five in 146.1 overs after bad light stopped the proceedings.
The visitors scored 96 runs on the day without losing a wicket, as left-hander Amit Verma celebrated his return to the state side with an unbeaten 114 and the in-form Karun Nair took his overnight score to 151.
The duo have already added 206 runs for the unbroken sixth wicket stand, and, with a day left, the match as a contest has already ended. The fifth day should be a mere formality for R Vinay Kumar and his boys as they gear up for the final against Maharashtra, starting January 29.
Karnataka will certainly not like to declare their innings and ideally want Karun to try and get another 49 runs which will help him complete a coveted first double hundred in the Ranji Trophy.
Starting the day on 351 for 5, Nair and Verma had little difficulty in negotiating the Punjab pacers. Nair has faced 296 balls and hit 12 boundaries, while Verma has 17 hits to the fence off 265 balls.
The day started with Verma moving into the seventies with a couple of boundaries behind square on the off-side off Manpreet Gony's bowling.
He got another streaky four past the slip cordon off Harbhajan Singh before dispatching a loopy full-toss from offie Gurkeerat Singh towards the cover boundary. Verma completed his eighth first-class century in his 39th match with a hard slash past point off Jaskaran Singh.
Nair also steadily progressed as he added another 44 runs to his overnight score in getting past the 150-run mark. The right-hander time and again opened the face of his bat and used the gap in the third man region to good effect.
Scorecard
Punjab (1st Innings): 270
Karnataka (1st Innings): (Overnight 351-5)
R Uthappa lbw Harbhajan 47
KL Rahul c Khera b Gony 4
M Agarwal c Khera b Jaskaran 0
M Pandey c Khera b Sandeep 65
K Nair batting 151
CM Gautam c Jiwanjot b Harbhajan 48
A Verma batting 114
Extras: (lb-7, w-2, nb-9) 18
Total: (for 5 wickets; 146.1 overs) 447
Fall of wickets: 1-6, 2-23, 3-94, 4-158, 5-241
Bowling: Sandeep 23-5-58-1, Gony 31-4-103-1, Jaskaran 25-5-89-1, Harbhajan 33-3-98-2, Yuvraj 4-0-14-0, Kohli 12.1-1-42-0, Gurkeerat 18-3-36-0.
Photograph: Laurence Griffiths/ALLSPORT