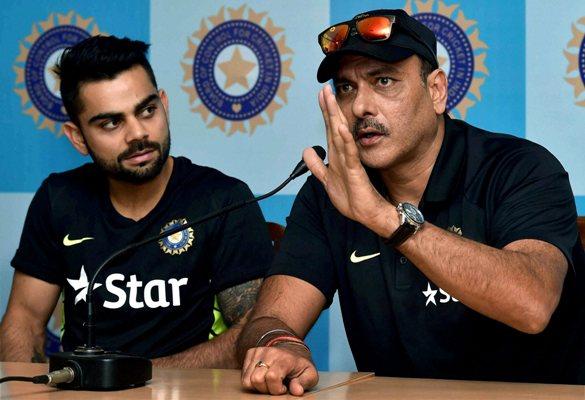 IMAGE: Virat Kohli (left) looks on as Indian Team Director Ravi Shastri addresses the media. Photograph: PTI
The last time India visited Bangladesh, Mahendra Singh Dhoni's men had a forgettable outing as slumped to their first-ever ODI series loss (1-2) against the hosts.
However, team director Ravi Shastri does not remember those demoralizing defeats.
Asked Shastri about the last tour, he said: "It happened eight months back and I have already forgotten that. Thereafter we
played a lot of cricket.
"Ask me whatever has happened in the last two weeks. My memory is not that good." However, Shastri warned his team not to take Bangladesh lightly.
"I have seen cricket in Bangladesh grow. I have come here right from the 90s as a broadcaster and I am happy to see the way cricket has developed and happy to see the way Bangladesh has evolved as a team.
"No team can take them lightly as they showed last year in the way they played one-day cricket. Tribute to them and they have the respect of every opposition," he said.