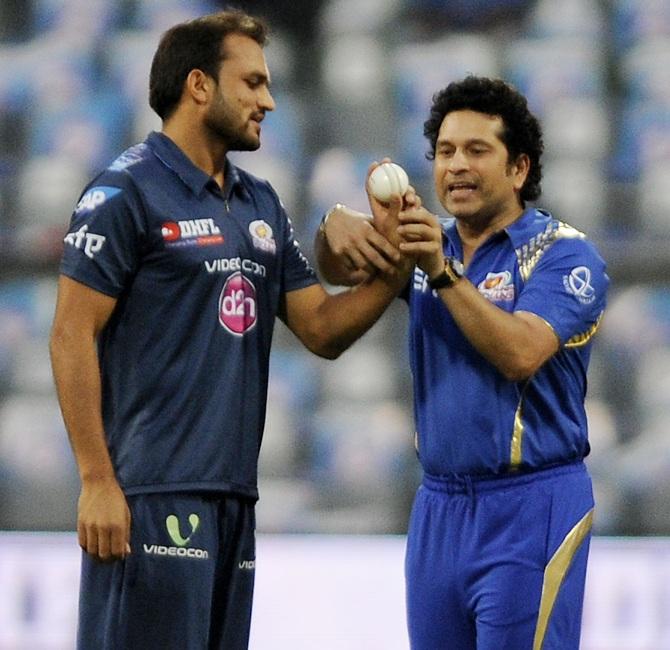 Mumbai Indians icon player Sachin Tendulkar speaks with Pawan Suyal. Photograph: BCCI
Rebutting assertions that the large Mumbai Indians coaching entourage is hampering the team's chances in IPL, wicketkeeper Parthiv Patel said that the results may not be coming but the star-studded support staff gives players space and their inputs are valuable.
IPL: Delhi Daredevils thrash Mumbai Indians to break Kotla jinx
The Rohit Sharma-led MI went to down against Delhi Daredevils at Feroz Shah Kotla on Thursday to suffer their fifth loss of the season in six matches. With Sachin Tendulkar, Ricky Ponting and many more greats in the dug-out, MI's string of losses do come as a surprise but Parthiv thinks otherwise.
"Not really, we are lucky to have a good coaching staff with us. They have played so much of cricket and they know that every player needs his space and that's what they do. They try and give their small inputs and that helps. I don't think the star-studded coaching staff is hampering our chances," said Parthiv after the team's 37-run loss against DD.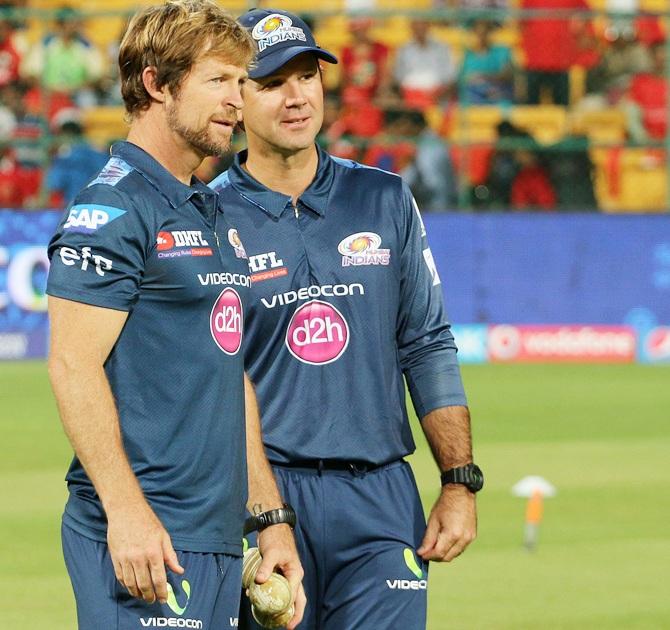 Mumbai Indians' Jonty Rhodes and Ricky Ponting. Photograph: BCCI
"As a player it's a dream to be in the same dressing room as Sachin Tendulkar (chief mentor), Ricky Ponting (head coach), Anil Kumble (mentor) or Jonty Rhodes (fielding consultant) or Shane Bond (bowling coach). As a player they know the game, they have been there done that.
"They know what a player needs and that's what they try and do. As a player you always look up to them and we get good inputs. From an outsiders view it might look that they are adding pressure, but now that I am in the team, I would say that I am fortunate to be part of the team," he added.
After conceding 190 runs post their decision to field first, MI could only muster 153 for nine in reply. Parthiv, who made a fighting 28, was not willing to dissect the team's failure.
"I think it's very easy to say that the bowling did not do well or the batting did not do well. Obviously 191 is not the easiest target. But I thought the bowlers did a good job, it was looking like they were going to get more than 200. To chase down 190 we needed someone to play a big innings, which didn't happen," he said.
MI opened the season with four straight losses, before winning a game against Royal Challengers Bangalore. The DD loss again pulled them back, but Parthiv is still hopeful of a turnaround.
"As a team we can just do our practices right and go through our process and that's what we have been doing. The energy has been good in our sessions, yes, the results are not going our way but I think still there are eight games to go and anyone can get on the roll and win 5-6 games," he said.