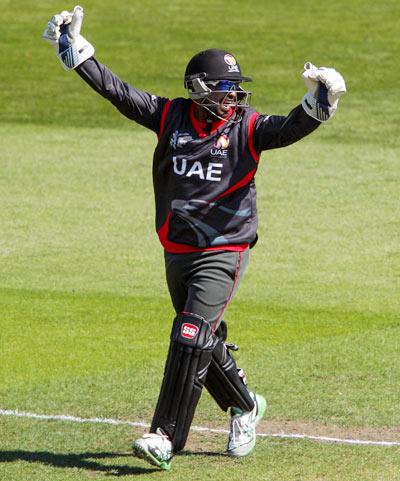 When Swapnil Patil steps on to the field wearing the United Arab Emirates' colours against Mahendra Singh Dhoni and his men in their ICC World Cup match, his near and dear ones in Mumbai will not only root for him but also support the Men in Blue.
- World Cup diary: Dhoni-Kohli bonhomie

"We would like him and UAE to do well in the match, but later on we would support India. It is our country," said the wicketkeeper-batsman's elder brother, Rohan, ahead of Saturday's game.

Swapnil had played for Mumbai at the Under-14, Under-19 and Under-22 levels and was also in the Ranji Trophy squad, then led by Sachin Tendulkar, but could not force his way in (ahead of Vinayak Samant, who was Mumbai's 'keeper then), said his brother.

When a chance arose to move on to Dubai in 2006 on the strength of his cricketing prowess for a construction company as a player-employee, the 29-year-old from Vasai, in neighbouring Thane district, grabbed it with both hands.

"It was in 2006 when the Yogi Group asked for his video footage with a few others before selecting him to play for them in Dubai. He performed very well for three to four years before being picked to play for the UAE," added Rohan.
- Rediff World Cup Quiz: Who hit the fastest hundred in a World Cup?

The sales executive, who got married recently and left his new bride, Manali, behind to play in the ICC World Cup, had represented the country of his residence in the World T20 Cup in Bangladesh last year - playing against the Netherlands, Ireland and Zimbabwe - but did not get a chance to play against India.

After missing the distinction for Mumbai, Swapnil made his first class debut for UAE against Bermuda at the ICC Inter-Continental Cup in New Zealand, in July, 2010.

He could represent the UAE on residential qualification after living there for four years, as per the International Cricket Council's rules.

He made his ODI debut against Scotland in Lincoln and was left stranded on 99 not out in the match.
- VOTE: Who will win the 2015 World Cup?
Image: Swapnil Patil in action for the United Arab Emirates.
Photograph: Hagen Hopkins/Getty Images