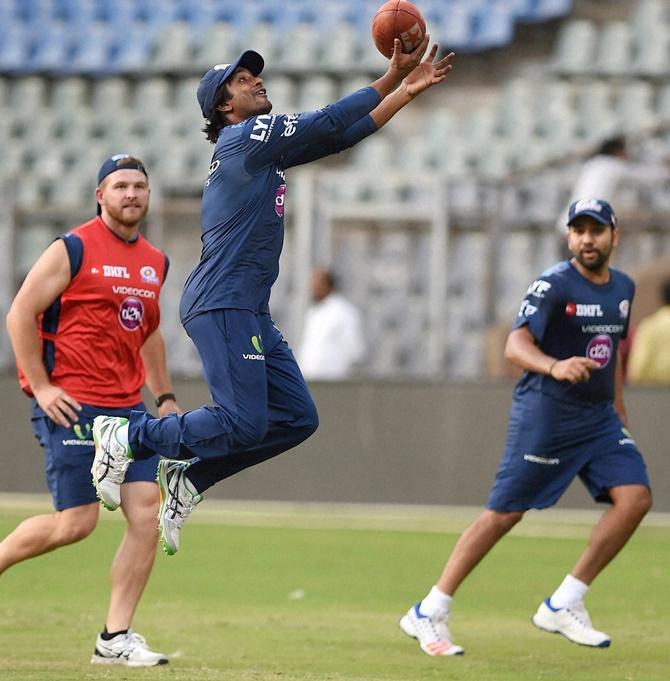 IMAGE: Mumbai Indians players during a practice session in Mumbai. Photograph: PTI Photos.
Although handicapped by the absence of their pace injured spearhead Lasith Malinga, who may miss the entire Indian Premier League season 9 commencing, in Mumbai, on Saturday, title holders Mumbai Indians are quite confident that there are others capable of stepping into the Sri Lankan's shoes.
IPL to kick off at Wankhede after HC relief
"The (franchise) owners and (head coach) Ricky (Ponting) have done a good job in recruiting a couple of fast bowlers in the side. So we have cover for him. If he arrives fit, he will surely fit into our squad. If he doesn't, we have good cover for him," said Mumbai Indians's bowling coach Shane Bond, on Friday, ahead of the team's lung-opener against new outfit, Rising Pune Supergiants.
"Nothing changes, like in any injury, that is the depth of the squad. When it comes to IPL during the course of time, there were 16 players, so you cannot rely on one player," added Bond over Malinga's injury-forced absence at least for the first half of the round robin stage.
Malinga, who played a major rule last year by taking 24 wickets in 15 games in Mumbai Indians's memorable come from behind run to the title for the second time, has hurt his knee and was unable to be the bowling spearhead for his country, Lanka, in the World T20 that concluded on April 3.
Ponting had also confidently said that there were adequate replacements if Malinga is ruled out of the entire season 9 of the T20 league.
"If you look at last season when we were playing our best cricket, Malinga was bowling at his best, as well. He's been one of the great performers in world cricket with the new as well as the old ball. He will be definitely missed, but we have more than adequate replacements if he's ruled out," the former Australia captain said yesterday at his media conference.
Bond, similar to Ponting, hailed the improvement shown by young seam bowler Jasprit Bumrah since the last season when he was coming back from a serious knee injury.
"I think last year he (Bumrah) was coming into the matches, after a serious knee injury, so didn't see the best of him. But his development over the last year is credit to himself the manner of hard work he has put in," said Bond whose career too was hit hard by injuries.
"I think the way he particularly bowled for India in the World T20, he has been one of the best bowlers for India," added Bond about the performance of Bumrah since he made his debut during the tour to Australia earlier this year to play "And for us, it's great to get him back, also with the form that he is in and also with the confidence he is in. He has got great skills like the way he is bowling so he adds a great amount to our team."
Bond felt it was important to gauge the specifics of a particular playing arena and adapt accordingly.
"It is all batsman and conditions-specific. We play in a ground where batsmen hit heavily, playing down the ground. You have grounds like Mohali which have big square boundaries. That is the key, summing up the pitch, conditions and batsmen, and being able to adapt to a certain plan, to a certain ground and to a certain player.
"There is a lot more technology in the game now, particularly in the analytical side of the game. It is about working out where and whom the batsman wants to target at some point of the game and what bowlers you want to bowl to a particular batsman," said the 40-year-old Bond who grabbed 87 wickets in 18 Tests before injuries cut short his career.
"There are the things behind the scenes to give us the best chance of winning. At the end of the day the bowlers have to undergo pressure and bowl in the right areas. But we know if we are well prepared and organised and execute our skills very well with such a good bowling line-up, we will be reasonably successful," he added.