'I feel individual brilliance can win you a few games but what is required to win a championship is team unity and team work.'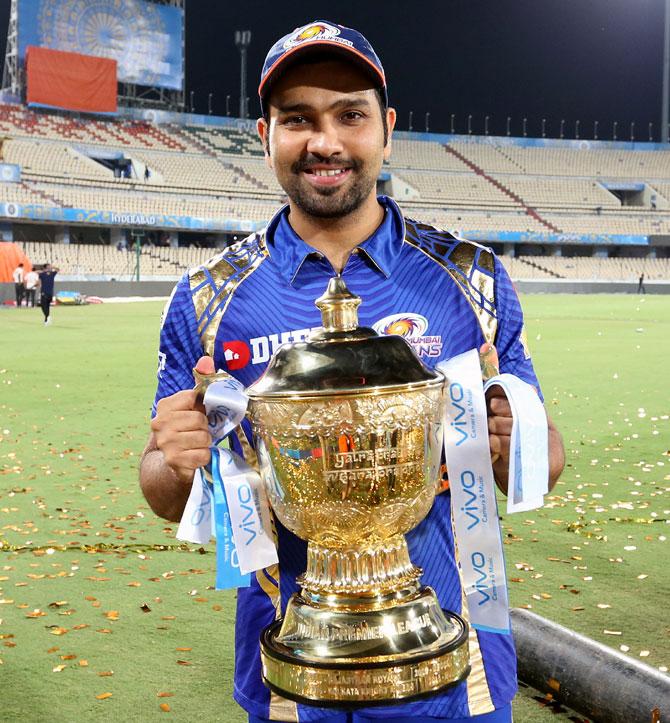 IMAGE: Mumbai Indians captain Rohit Sharma poses with the IPL trophy. Photograph: BCCI
Individual brilliance can win a team few games but what is needed to win a tournament is team work, said Mumbai Indians captain Rohit Sharma after his side lifted their third Indian Premier League title, in Hyderabad.

Mumbai Indian rode on their bowlers' superb display to eke out a close one-run win over Rising Pune Supergiant in a low-scoring final to win the IPL title, on Sunday.

"I feel individual brilliance can win you a few games but what is required to win a championship is team unity and team work. These are the factors which I believe personally is very critical to win a championship," Rohit said in the post match press conference on Sunday night.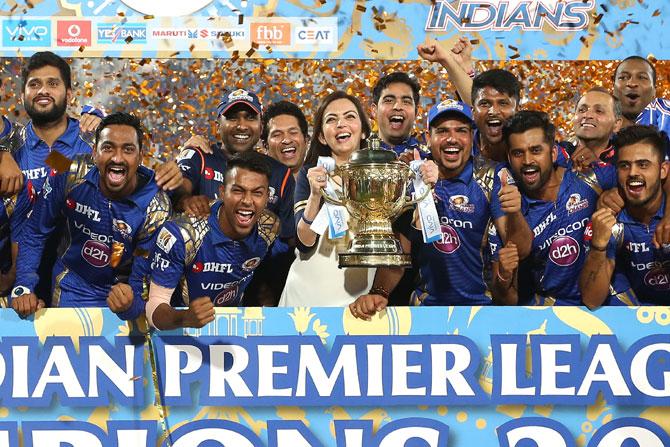 IMAGE: Mumbai Indians owner Nita Ambani, centre, celebrates with her team after winning the IPL-10 title. Photograph: BCCI
Rohit termed all three IPL title victories as special and said getting the right combination is crucial for a team's success.

"All three titles are special. I personally feel it's how you prepare at the start of the tournament, getting your combinations right. I feel that is the most critical part of winning a tournament," he said.

Rohit praised Australian left-arm pacer Mitchell Johnson, who bowled the last over in which Pune needed 11 runs to win, for turning the match in their favour.

"We got some proven match winners in our squad. Mitchell Johnson is a proven customer. He proved again and again playing for Australia and he has done it for Mumbai as well. He has been in that atmosphere before for us. Yes, I could happily rely on him when I needed the most. The last over was very crucial," the Mumbai skipper said.

"It was fantastic to have him throughout the season."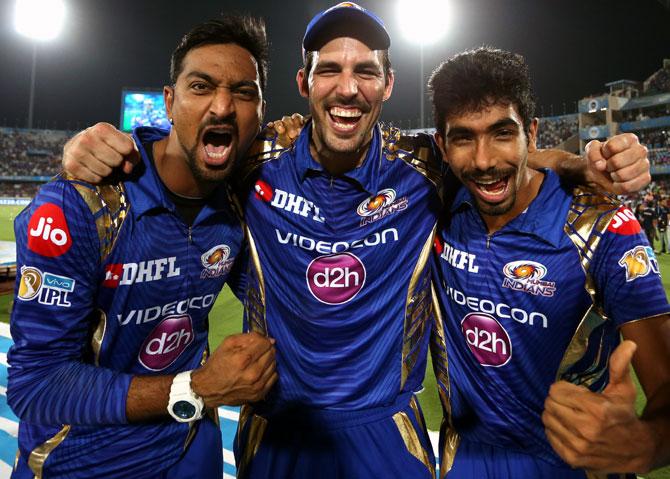 IMAGE: Mumbai Indians players Krunal Pandya, Mitchell Johnson and Jasprit Bumrah celebrate after winning the IPL-10 title. Photograph: BCCI
Asked about Mumbai Indians' strategy going into the last over with a set Pune captain Steven Smith at the crease, Rohit said: "There was no specific strategy. We just wanted to make it difficult by not giving him (Smith) pace. What we saw, he was trying to use the pace of bowlers. That's something me and Johnson discussed.

"He (Johnson) was bowling against the wind. So, we wanted Smith to hit into the wind. That will make it difficult for him."

Mumbai Indians made a paltry 129 for eight after electing to bat, and Rohit said they were 30-40 runs short of what would have been a winning score in the title clash.

"Our target on this wicket was 140 to 160. 160 on this wicket probably would have been a match winning score," he said.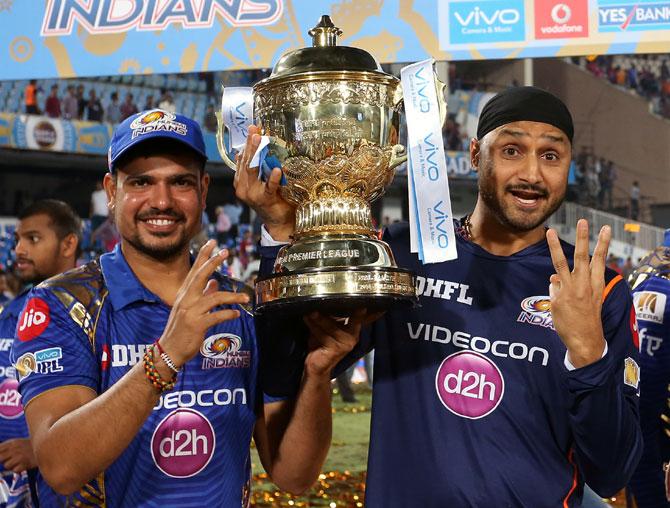 IMAGE: Spinners Karn Sharma and Harbhajan Singh with the IPL trophy. Photograph: BCCI
Terming Lasith Malinga and Jasprith Bumrah as the best death bowlers, Rohit said he always prefers a five-bowler attack.

"Cricket is all about experience. You will always have some experienced and proven match winners and some inexperienced in your squad. I personally felt at the start of the tournament, it's always good to have five bowlers theory," he said.

Rohit also praised all-rounder Krunal Pandya, who was adjudged man-of-the-match for his vital knock of 47 runs.

Asked if he aspired to become India captain, Rohit gave a diplomatic reply. "It's thinking too far ahead. I don't think too far ahead. When the opportunity comes, it comes. I will grab it with both hands."
© Copyright 2021 PTI. All rights reserved. Republication or redistribution of PTI content, including by framing or similar means, is expressly prohibited without the prior written consent.