- 'The court has not yet convicted Rameez. He was selected in the team on the basis of his competence and performance.'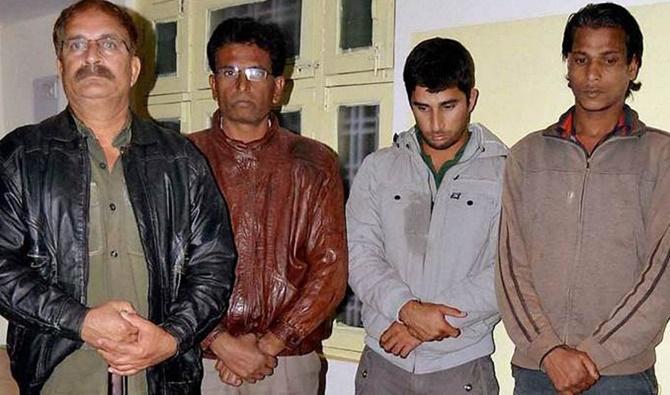 IMAGE :Mehmood Khan, left, and his son Rameez, second right, were caught along with two others under the Wildlife Conservation Act for hunting endangered black bucks. Photograph: PTI
All-rounder Rameez Khan, who is facing charges of killing a black buck, was included in the Madhya Pradesh team for the forthcoming season of Ranji Trophy.

Earlier this year, Rameez was arrested in the case following which he was dropped from the team. He was subsequently released on bail.

The Madhya Pradesh Cricket Association announced the 16-member squad which would be led by veteran Devendra Bundela for the first two matches of Ranji Trophy.

"The court has not yet convicted Rameez. He was selected in the team on the basis of his competence and performance," Madhya Pradesh Cricket Association CEO Rohit Pandit said on Monday when asked about Rameez's selection.

"We are keeping an eye on the whole issue. Until the court convicts him we cannot punish him as per the rules," Pandit added.

MPCA secretary Milind Kanmadikar also said that as long as the court does not convict him, no disciplinary action can be taken against Khan as per the MPCA constitution.

Rameez, his father Mehmood Khan and two others were arrested under the Wildlife Protection Act on January 10, 2016 and remains of a black buck (an endangered species), a rifle, live cartridges and a knife were recovered from their possession.

Mehmood Khan also featured for MP in domestic cricket in the past.

Rameez, who made his debut in first class cricket in 2011, has so far played 26 first class matches for the state, scoring 1,169 runs and taking eight wickets.
© Copyright 2023 PTI. All rights reserved. Republication or redistribution of PTI content, including by framing or similar means, is expressly prohibited without the prior written consent.