- Murali Vijay and Cheteshwar Pujara eye top 10 places while Ravindra Jadeja jumps to career-best third position among Test all-rounders

- India just a victory away from reclaiming the ICC Test Championship mace
IMAGE: Ravichandran Ashwin celebrates a wicket during the first Test against New Zealand in Kanpur. Photograph: BCCI
India off-spinner Ravichandran Ashwin and New Zealand captain Kane Williamson have climbed up one place each to reach second position among bowlers and batsmen, respectively, in the latest MRF Tyres ICC Test Player Rankings, which were released on Tuesday morning.

Ashwin's match haul of 10-225, that helped notch a 197-run victory in the first Test in Kanpur on Monday, has seen him overtake England's James Anderson by one point. He is now within seven points of number-one ranked Dale Steyn of South Africa, who leads the ICC Player Rankings for Test Bowlers with 878 points.
Another strong performance in the Kolkata Test, which starts on Friday, will potentially see Ashwin top the bowling charts for the second time in 2016 after first claiming the number-one position last year following the Boxing Day Tests.
Williamson has similarly edged England's Joe Root by one point with innings of 75 and 25 to reach 879 points in the ICC Player Rankings for Test Batsmen, which is led by Australia captain Steve Smith with 906 points.
However, to move ahead or edge even closer to Smith, Williamson will have to produce strong performances in the remaining two Tests.
Ashwin also contributed with a useful innings of 40 to consolidate his position at the top of the list of all-rounders. Ashwin has reached a career-best rating of 450, opening up a 66-point gap with second-placed Shakib Al Hasan of Bangladesh.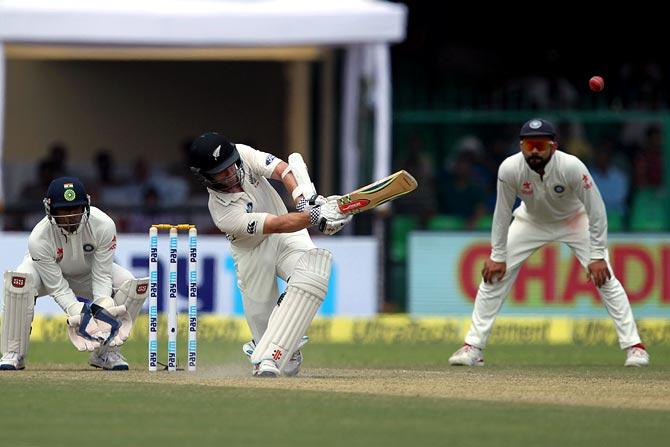 IMAGE: New Zealand batsman Kane Williamson hits out during the first Test in Kanpur. Photograph: BCCI
There was not much to cheer for other New Zealand batsmen apart from Williamson, but for India, opener Murali Vijay and Cheteshwar Pujara made significant gains.
Vijay and Pujara, who became the first Indian pair in 10 years to notch century partnerships in both innings of a Test match, moved up from joint-20th position to joint-16th position.
Other Indian batsmen to move up were Lokesh Rahul, who gained five ranks to reach 57th position, and Rohit Sharma, who gained two slots to reach 52nd rank.
Victory in its 500th Test means India is now one victory away from reclaiming the ICC Test Championship mace from Pakistan. India had entered the series trailing Pakistan by one point and needed to win the series to move ahead of its traditional rival.
Unlike the ODI and T20I team rankings, the Test rankings are only updated at the end of a series.
MRF Tyres ICC Test Player Rankings (as on 27 September, after the first Test between India and New Zealand):

Batsmen (top 10)

Rank (+/-) Player Team Pts Avge Highest Rating

1 ( - ) Steve Smith Aus 906 58.55 936 v Eng at Lord's 2015

2 (+1) K.Williamson NZ 879 51.05 893 v Aus at Perth 2015

3 (-1) Joe Root Eng 878 54.86 917 v Aus at Trent Bridge 2015

4 ( - ) Hashim Amla SA 847 51.16 907 v Pak at Abu Dhabi 2013

5 ( - ) Younus Khan Pak 845 53.72 880 v SL at Lahore 2009

6= ( - ) Adam Voges Aus 802* 72.75 824 v SL at Galle 2016

( - ) AB de Villiers SA 802 50.46 935 v Aus at Port Elizabeth 2014

8 (+1) David Warner Aus 772 48.63 880 v NZ at Perth 2015

9 (+1) Alastair Cook Eng 770 47.31 874 v Ind at Kolkata 2012

10 (+1) Misbah-ul-Haq Pak 764 48.27 842 v NZ at Abu Dhabi 2014

Other selected rankings

Rank (+/-) Player Team Pts Avge Highest Rating

11 (-3) Ajinkya Rahane Ind 760 48.00 785 v WI at Trinidad 2016

15 (-1) Ross Taylor NZ 706 47.19 871 v WI at Hamilton 2013

16= (+4) Murali Vijay Ind 695 41.46 747 v SA at Bengaluru 2015

(+4) C. Pujara Ind 695 47.67 851 v SA at Durban 2013

20 (-4) Virat Kohli Ind 680 44.21 784 v NZ at Wellington 2014

44 (+2) R.Ashwin Ind 517 34.39 527 v Eng at Old Trafford 2014

Bowlers (top 10)

Rank (+/-) Player Team Pts Avge Highest Rating

1 ( - ) Dale Steyn SA 878 22.24 909 v WI at Centurion 2014

2 (+1) R.Ashwin Ind 871 25.06 876 v WI at Antigua 2016

3 (-1) James Anderson Eng 870 28.28 884 v SL at Durham 2016

4 ( - ) Stuart Broad Eng 836 28.52 880 v SA at Johannesburg 2016

5 ( - ) Rangana Herath SL 831 28.71 851 v Pak at Colombo (SSC) 2014

6 ( - ) Yasir Shah Pak 806* 27.48 878 v Eng at Lord's 2016

7 (+1) Ravindra Jadeja Ind 798*! 23.29 798 v NZ at Kanpur 2016

8 (-1) Mitchell Starc Aus 792! 27.36 792 v SL at Colombo (SSC) 2016

9 ( - ) Neil Wagner NZ 746* 29.50 760 v SA at Centurion 2016

10= (+1) V.Philander SA 723 22.09 912 v Ind at Johannesburg 2013

( - ) Trent Boult NZ 723 29.40 825 v Eng at Lord's 2015

Other selected rankings

Rank (+/-) Player Team Pts Avge Highest Rating

21 (-1) Ishant Sharma Ind 579 36.71 671 v WI at Dominica 2011

25 ( - ) M. Shami Ind 541*! 33.93 541 v NZ at Kanpur 2016

30 (-1) Umesh Yadav Ind 472* 35.86 509 v WI at Antigua 2016

40 (+1) Mark Craig NZ 388* 46.52 405 v Aus at Wellington 2016

47 (+12) Mitchell Santner NZ 333*! 30.55 333 v Ind at Kanpur 2016

52= (+5) Ish Sodhi NZ 307*! 46.68 307 v Ind at Kanpur 2016

All-rounders (top five)

Rank (+/-) Player Team Pts Highest Rating

1 ( - ) R.Ashwin Ind 450! 450 v NZ at Kanpur 2016

2 ( - ) Shakib Al Hasan Ban 384 419 v Zim at Khulna 2014

3= (+5) Ravindra Jadeja Ind 292*/*! 292 v NZ at Kanpur 2016

( - ) Moeen Ali Eng 292 /*! 292 v Pak at The Oval 2016

5 (-1) Mitchell Starc Aus 279! 279 v SL at Colombo (SSC) 2016


* indicates provisional rating; a batsman qualifies for a full rating after playing 40 Test innings; a bowler qualifies for a full rating when he reaches 100 Test wickets.

! indicates career-highest rating