'I believe cricket should always be the priority.'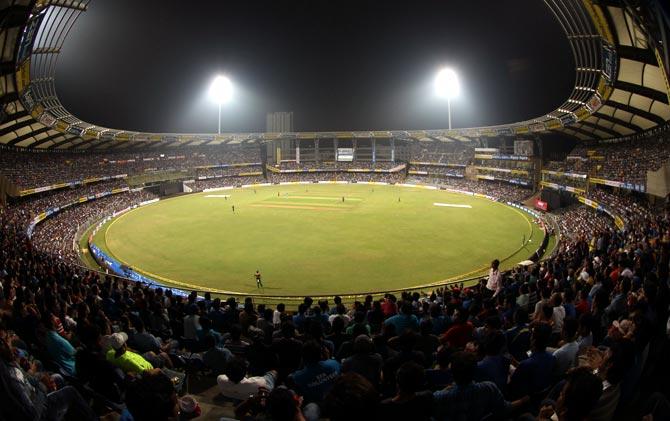 IMAGE: The Wankhede stadium in Mumbai. Photograph: BCCI

Former India captain Dilip Vengsarkar wants Mumbai as the reserve venue if Hyderabad Cricket Association is unable to hold the one-off India-Bangladesh Test match, starting on February 13, for any reason.

"Besides, Mumbai also could be counted as the back-up venue for the India vs Bangladesh Test match if Hyderabad which is the original venue declines to host it," said the former India captain.

"I believe cricket should always be the priority. These matches are scheduled a long time ago and hosting them shouldn't be a problem at all," added Vengsarkar, who played 116 Tests for India and has the distinction of scoring three back-to-back hundred at Lord's.
However, Hyderabad Cricket Association secretary John Manoj on Monday rubbished rumours that his association will not host the one-off Test match between India and Bangladesh scheduled at the Rajiv Gandhi International stadium in Uppal, Hyderabad.

"Let me set the record straight that HCA has never ever shown reluctance to host the Test. We are issuing tender notice for in stadia advertisement today. Also we are set to sign a deal with TCM (Twenty First Century Media) within a day or two. I don't know who spread all these rumours," HCA secretary Manoj said.

"In fact Bangladesh wants to come a week early for practice match. We have enough funds for that also. Therefore, I believe it is some BCCI officials, who probably are disqualified, want to spread baseless rumours. So I put it again, Hyderabad is hosting the Test match," he added.
TheTamil Nadu Cricket Association has expressed its inability to host next month's India Under-19 games against their England counterparts, and Vengsarkar also wants these matches to be shifted to Mumbai.

"As a former captain of India, I feel that if TNCA is unable to host the Under-19 games against England, Mumbai can host it as it has more international venues than any other city in India," said the former chief selector, who recently resigned as vice president of the Mumbai Cricket Association.

TNCA has cited cyclone Vardah, its after-effects and its own domestic cricket schedule as reasons for it not having sufficient fit-enough grounds to host the Under-19 matches between India and England for a fortnight at the M A Chidambaram Stadium in Chepauk.
Mumbai, in fact, is to host all five One-day games in the Under-19 series which is to be held before the two-game 'Test' rubber.
The five one-day matches between the two U-19 teams are to be held at Mumbai Cricket Association's Wankhede Stadium and Cricket Club of India's Brabourne Stadium.
The first, fourth and final games are to be held at the Wankhede Stadium on January 30, February 6 and 8, while the remaining two games at the CCI are to be played on February 1 and 3.