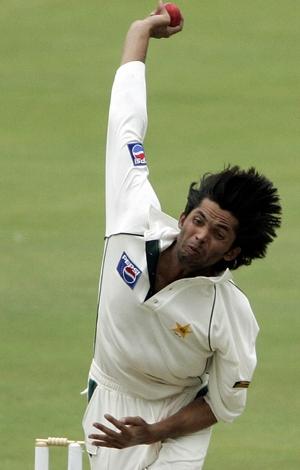 Pakistan pacer Mohammad Asif celebrated his return to international cricket with three vital wickets as New Zealand battled to 276 for 6 at stumps on Day 1 of the first Test in Dunedin on Tuesday.
Only a fielding lapse denied him a fourth wicket as the hosts struggled through the first day after being put in to bat.
Daniel Vettori escaped a golden duck in one of three dropped catches that proved costly for Pakistan and allowed New Zealand to build two solid partnerships and recover from a first-ball dismissal.
Ross Taylor and Martin Guptill staged a 117-run rescue stand for the third wicket, while Vettori and Brendon McCullum had put on an unbroken 65 for the seventh wicket.
At stumps, Vettori was unbeaten on 40 and McCullum on 25 after successfully appealing against an lbw dismissal on the penultimate ball of the day.
But around them the New Zealand batting had a familiar air of frailty as Asif posted three for 76 off 24 overs. Mohammad Aamir had two for 62 and Umar Gul, although wicketless, bowled seven maidens in his first nine overs.
Asif, who arrived in New Zealand vowing to repair a promising career that had been stalled by injury and drug scandals, took wickets in the first and last sessions of the day.
But it was the 17-year-old Mohammad Aamir who took the early plaudits after Mohammad Yousuf won the toss and put New Zealand in to bat.
New Zealand, who have not beaten Pakistan in a home series since 1985, are officially the visiting team in this three-match series after refusing to play in Pakistan because of security fears.
Scorecard
New Zealand (1st innings):
 T McIntosh b Aamir 0
 M Guptill c Alam b Aamir 60
 D Flynn c Kamran b Asif 8
 R Taylor c Farhat b Ajmal 94
 P Fulton b Asif 29
 G Elliott c Kamran b Asif 8
 B McCullum not out 25
 D Vettori not out 40
 Extras: (LB 11, NB 1) 12
 Total: (for 6 wickets in 90 overs) 276
 Fall of wickets: 1-0, 2-27, 3-144, 4-192, 5-210, 6-211.
 Bowling: Mohammad Aamir 19-3-62-2, Mohammad Asif 24-4-76-3, Umar Gul 21-7-78-0, Saeed Ajmal 26-9-49-1.