Australia's wicket-keeper Peter Nevill says Pakistan have a couple of players who, on their day, can be incredibly destructive.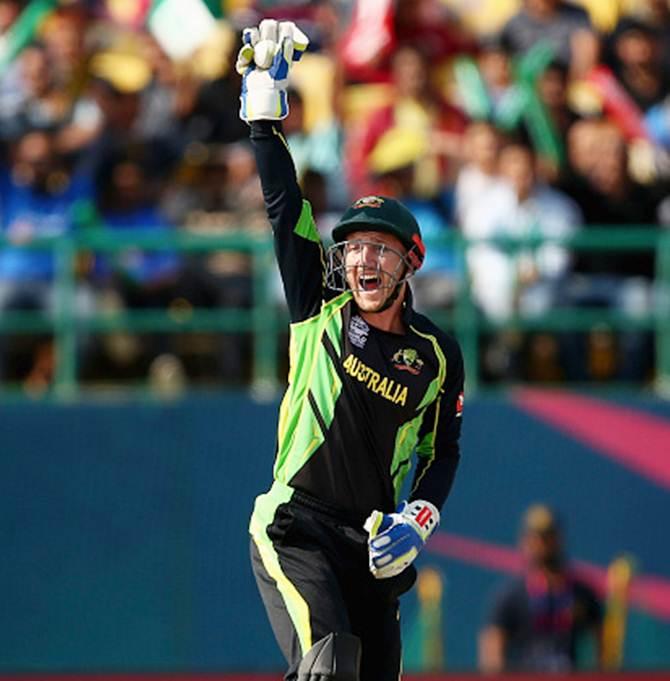 IMAGE: Australia's wicket-keeper Peter Nevill appeals for a wicket during the ICC World Twenty20 match against New Zealand at the HPCA Stadium in Dharamsala. Photograph: Ryan Pierse/Getty Images
Pakistan may be down and out, but Peter Nevill, Australia's wicketkeeper, says they are a "dangerous team" and his side cannot afford to be complacent when they meet in the World T20 game in Mohali on Friday.
"There is certainly no complacency from our point of view. We certainly won't be underestimating them. They are a dangerous team. If we don't perform well, we lose," Nevill told a press conference in Mohali on Wednesday.
He said some of Pakistan's players can be really destructive.
"I certainly don't think they lack batting firepower. You just got to look at a couple of their players who, on their day, can be incredibly destructive."
The 30-year-old, a surprise inclusion in Australia's squad for the World T20, said his team has to win both their remaining matches (against Pakistan, followed by India) in the league stage.
"If we drop (lose) one of these next two games, then you are obviously relying on other results hoping they go your way. You would rather not be in that position. It is a must-win game (against Pakistan) for us," he said.
Asked which team – India or Pakistan -- is tougher to beat, the wicketkeeper-batsman said: "I don't know; I have not thought about that. They are both tough. It is very different challenge playing Pakistan and India. You have obviously to compete against different players with different strengths. I don't think it really helps to compare the two."
Of the two matches Australia has played thus far in the tournament, they won one, against Bangladesh, and lost to New Zealand.
Chasing 157 against Bangladesh, the Aussies survived some anxious moments as they lost wickets quickly in the middle order before sailing through.
"We would have surely liked to be more clinical in the run chase. We haven't been, I suppose, as clinical as a batting unit as we want to be, but this game against Pakistan is a perfect opportunity. There are lot of guys in the change room who really will be looking to turn it on, putting a good performance and make some big runs," he said.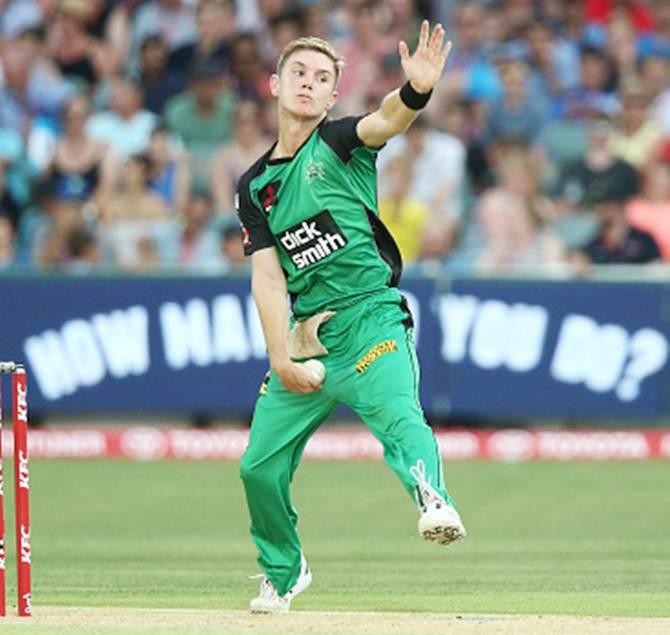 IMAGE: Australia leg-spinner Adam Zampa had a fine match against Bangladesh, taking three wickets. Photograph: Morne de Klerk/Getty Images
Nevill heaped praise on young Aussie leg-spinner Adam Zampa, who took three wickets against Bangladesh.
"He bowled beautifully. His performance was fantastic and turned the match in our favour. It was a crucial spell in the scheme of things. He has been performing beautifully and bowling well," he said.
On the Mohali wicket, Nevill said, "I am not entirely sure which pitch we are on. Judging from game last night (Tuesday night) here, I thought, personally, it played pretty similar to the one we played against Bangladesh in Bangalore. We will have to see if it changes in a day or so. We will have to adjust to what we are given (if it is a turning track)."
Nevill, who made his Test debut last year and featured in only five T20 Internationals, said playing in India is a "fantastic" experience.
On the personal goals he has set for himself, he said: "I didn't set any personal goals, really. Just a matter of doing the role I am asked to do and doing that successfully."
Talking about the challenges of wicket-keeping in the sub-continent conditions, he said, the fundamentals remain the same, "but it is lot more exciting with lot of spin here; it is enjoyable as a wicket-keeper".