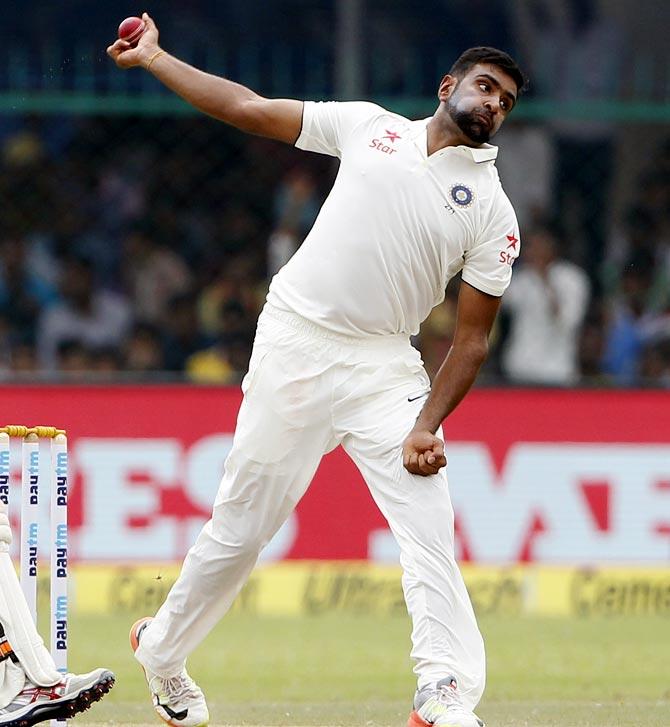 IMAGE: Ravichandran Ashwin bowls during the third Test in Indore. Photograph: Danish Siddiqui/Reuters
India captain Virat Kohli hailed his spinners and credited their success to hard work, focus and having a winning mentality, after winning the Test series against New Zealand 3-0.
- PHOTOS: Sensational Ashwin spins India to series whitewash
India hammered New Zealand by 321 runs on Day 4 of the third Test in Indore on Tuesday and when the skipper was posed with a 'googly' at the post-match press conference, he tackled the question in a calm manner.
Asked about Harbhajan Singh's recent tweet where he wrote that had pitches been as helpful earlier in his career, he and Anil Kumble would have grabbed many more wickets, Kohli cited the World T20 Cup game in Nagpur when the same set of New Zealand spinners had outshone the same set of Indian bowlers.
"Even if it is a turning pitch you have to bowl well. Spin is just not something to happen only off the pitch. It depends on how many revs (revolutions) you give to the ball and the use of the shoulder. When we lost to New Zealand in the World Cup, I quite clearly remember, suddenly their spinners were quality bowlers and we were found out! I don't see anyone talking about it now.
"The same (New Zealand) spinners had played (in this series). Why did not they pick up wickets? It's as simple as that. Our fast bowlers (also) picked up wickets everywhere. Give a guy a cement track to bat on. He should have a mindset to do so. It's as simple as that. That's all I am going to sum up."
Off-spinner Ravichandran Ashwin played an instrumental role in India's series whitewash as he claimed a whopping 27 wickets in the three matches, with spin colleague Ravindra Jadeja second with 14 wickets.
For New Zealand, left-arm pacer Trent Boult and left-arm spinner Mitchell Santner were the joint wicket takers with 10 wickets each.