'What Ravi has said is absolutely right. It is another match for them as they are used to hype and big matches.'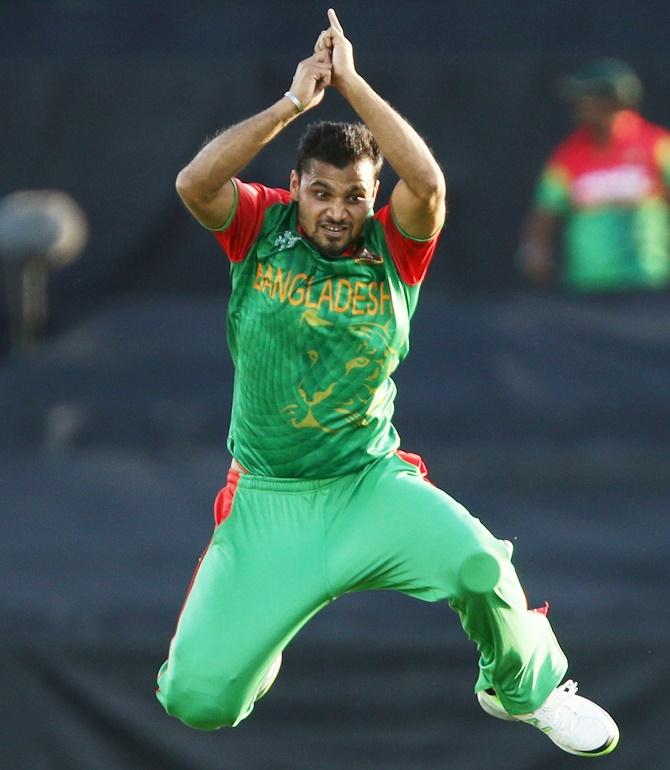 IMAGE: Bangladesh skipper Mashrafe Mortaza. Photograph: Matt King/Getty Images.
Mind games have begun ahead of the Asia Cup final played between host Bangladesh and India at Mirpur on Sunday.
While India's team director Ravi Shastri has termed it as 'yet another match', Bangladesh skipper Mashrafe Mortaza called India as clear favourites to relieve pressure from his young side in the title clash.
"We all know that Indians are clear favourites in the final. Let there be no debates or discussions on that," Mashrafe said at a packed match-eve press conference.
India have been in rampaging form with four convincing wins in the tournament, including the 45-run thumping of Bangladesh in their opening league match.
"What we have got is a young team which has won matches playing as a unit. We still don't have a T20 star, who can single-handedly win us a match. Crowd, pitch, conditions, everything will favour us but that can never ensure that we will win the final," Mashrafe clarified.
Commenting on Shastri's statement, Mashrafe said that for his team which rarely makes final appearances, it's a "big occasion".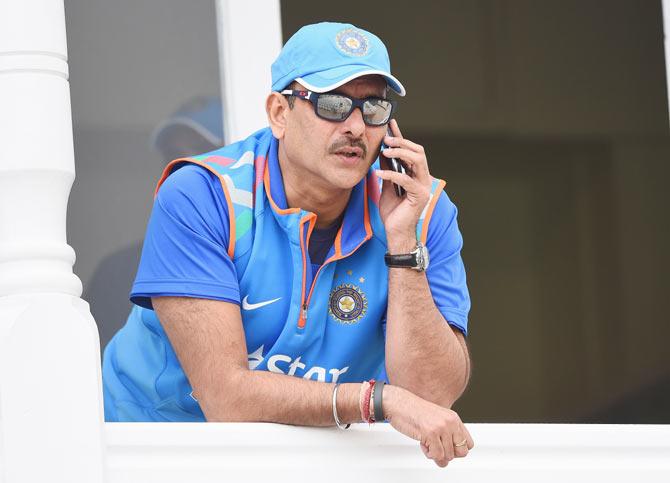 IMAGE: India's Team Director Ravi Shastri. Photograph: Laurence Griffiths/Getty Images.
"What Ravi Shastri has said is absolutely right. It is another match for them as they are used to hype and big matches. They can take it like 10 other matches.
"India has played big finals, won trophies. What is easy for them may not be that easy for us. But we are trying to focus on the game, shut ourselves from the hype and remain and play as normally as possible," the Bangladesh skipper said.
Mashrafe said playing the final of Asia Cup T20 adds a "different flavour" but he personally rates playing the quarter-final of the 50-over World Cup against India in Melbourne last year as a "bigger achievement".
"I believe as a captain, the biggest achievement was leading the team in the quarter-finals of the World Cup against India in MCG last year. This is certainly one of my bigger achievements but that quarterfinal stands out. That was a 50-over format and played in Australia," the senior pacer said.
Mashrafe said Bangladesh have improved since they lost by 2 runs to Pakistan in the 50-over Asia Cup final in 2012.
Asked if he feels that this time there would be a turnaround unlike 2012, the skipper was cautious.
"I guess if we are in a situation like that (2012), we will be able to perform better. But I can never guarantee that since we lost the 2012 final from close situation, we will automatically win this time round. At the end, T20 is all about that particular day," said Mashrafe.
He said that the league match which India won by 45 runs will have little bearing on tomorrow's final. But paceman Mustafizur's absence should be a challenge for others to stand up and be counted.
"Had we won that first match by 200 runs, it would have mattered little on Sunday. I don't think that would have in anyway helped me as a captain. But yes when we are playing without Mustafiz, it means we are without our best bowler. But this means, as a team we have to take the challenge and other bowlers need to step up and show that we can be good enough without our best bowler," he said.
For the Bangladesh skipper, a loss in the final may be disappointing but it would be a start of something special.
"If we don't win, nothing will be lost. I believe that Bangladesh's cricketing future is really bright. This tournament is an indicator that we are moving in right direction as far as T20 cricket is concerned. I won't say we have become a great team but our graph is ever improving," said Mashrafe.