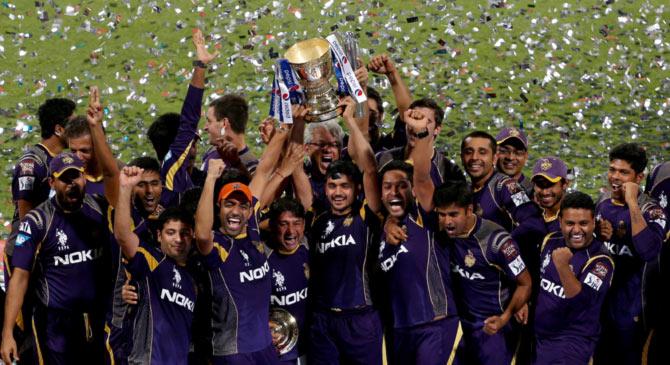 Kolkata Knight Riders celebrate winning the seventh edition of IPL in 2014. Photograph: BCCI

When Rinku Singh won the Million Dollar Arm show in 2008, the Indians' 'Great American Dream' of playing professional baseball became a reality. Now, the promoters of that very contest want Americans to realise the 'Great Indian Dream' of playing in cash-rich Indian Premier League T20 cricket tournament.

Sports agent J B Bernstein and partner Ash Vasudevan, co-creators of Million Dollar Arm, that gave Rinku a chance to become a professional pitcher (thrower), announced a cricket reality show, Million Dollar Bat, on Wednesday, to find baseball batters to compete for the chance to play cricket in the IPL.
- Rediff Labs: IPL 2014 Auction Price vs Performance Analysis

In fact, the tournament does have the blessings of the Board of Control for Cricket in India, with all-powerful IPL Chief Operating Officer Sundar Raman giving his vote of confidence for the event.
"Anything that helps grow the game of cricket and bring new talent in is very welcome," Raman said.

"When we went to India no one had ever heard of baseball. We 'borrowed' the American Idol format, replaced the microphone with a baseball, and followed the old adage:'Show me a guy who throws hard and I'll teach him how to pitch," said Bernstein, at the Host Cities summit, in Dubai.

It is a two-day conference with experts from the fields of sport and other major events looking to take Dubai's lead in winning and hosting major world events.

"Along came Rinku with his 88 miles-per-hour arm and the naturally talented Dinesh Patel and the rest, as they say, is history. Now we're looking to do it again, but with cricket.

"Having spoken to a number of professional baseball players and cricketers myself, there is a great deal of crossover between the two sports – especially in terms of hand-eye coordination – and I'm confident that we'll find ourselves, a US-born IPL star," Bernstein added.

In fact, the Hollywood film Million Dollar Arm, which was released last May, is based on the lives of Rinku and Dinesh.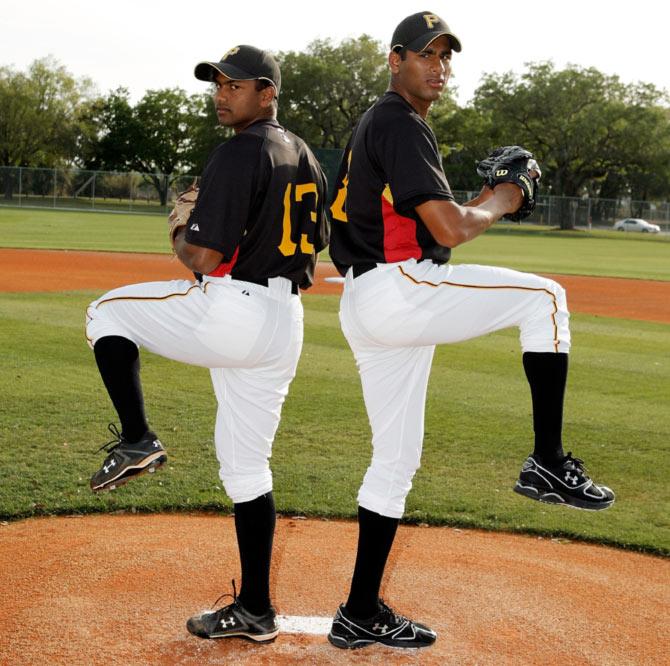 Dinesh Patel (left) and Rinku Singh of the Pittsburgh Pirates. Photograph: Doug Benc/Getty Images

Rinku's role was essayed by Life of Pi hero Suraj Singh, while American actor John Hamm portrayed Bernstein's character.

In 2008, Rinku and Dinesh, two aspiring javelin throwers, became the first Indians to sign a professional sports contract in North America after beating 37,000 hopefuls to win Bernstein's reality TV contest and joining Major League Baseball's Pittsburgh Pirates, despite neither of them having ever thrown a baseball before.

Rinku, who is also in Dubai, said: "I still can't really believe the journey I've been on since 2008. I've heard JB (Bernstein) say that no one really believed in the Million Dollar Arm idea, when it was first brought it to the table.

"But here I am in Dubai, sitting alongside him and Ash; my story is now a Disney motion picture, played by Suraj," gushed Rinku.

"This new contest (Million Dollar Bat) gives someone the chance to change their life. I know a few hitters back in the US who will be keen to give it a go."

Dinesh, on his part, added:"I'm living in India again at the moment and looking forward to welcoming the winner of the Million Dollar Bat next year. It's a total role reversal and I think fans – baseball and cricket – in the US, India and beyond are going to be watching with real interest to see who makes the cut."