'Rahane's sound technique, solid temperament, fiery confidence, steely determination and hunger for runs – all in keeping with the tradition of famous Mumbai batsmen – far outweigh charisma and flamboyance.'
'Being mentally strong, he never buckles under pressure; nor gets unduly affected by adulation or criticism.'
Haresh Pandya salutes India's most consistent batsmen over the last season.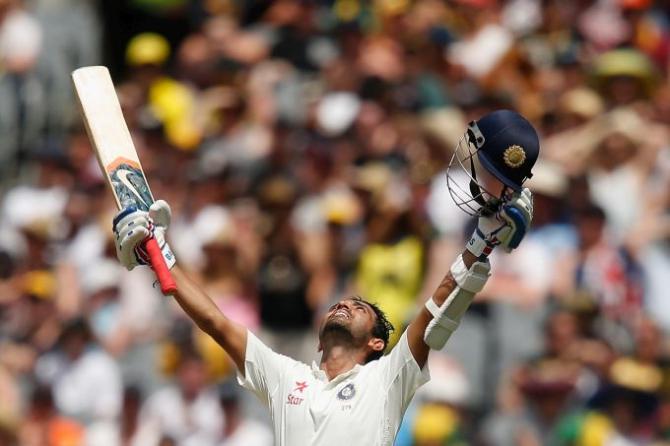 Ajinkya Rahane reacts after completing his century. Photograph: Darrian Traynor/Getty Images
Monk-like Ajinkya Rahane is the odd man out in the star-studded Indian cricket team. Though he is a star in his own right, he never behaves like one, unlike most of his Indian colleagues. Few can, however, match the man from Mumbai, who is the most consistent Indian batsman in the last one year, when it comes to sterling performances in trying circumstances.
The right-hander has neither the charisma of a Virat Kohli nor the flamboyance of a Shikhar Dhawan. But Rahane really does not need them. He hails from the famed Mumbai school of batting, which has given many stalwarts, including Sunil Gavaskar and Sachin Tendulkar, to Indian cricket.
His sound technique, solid temperament, fiery confidence, steely determination and hunger for runs – all in keeping with the tradition of famous Mumbai batsmen – far outweigh charisma and flamboyance. He may continue to remain an unsung hero, but his performances cannot be ignored.
Rahane has nicely adapted himself and his game to all the three formats. And delivered, too. In the just-concluded Indian Premier League he was one of the most successful players. In 14 matches he scored 540 runs off 413 balls, at an impressive average of just a shade under 50.
In the last 50-overs-a-side World Cup in the Antipodes he had raised expectations after his breezy 79 against South Africa that had diehard critics gasping. Had he managed to convert into big innings all those good starts he got, he would have emerged as one of the stars of the showpiece event. Nevertheless, he left his imprint and impressed those whose views matter.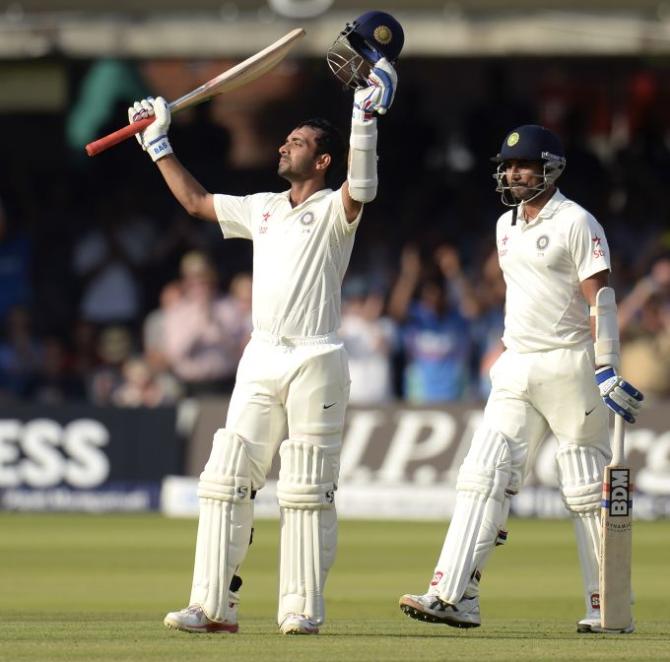 Ajinkya Rahane reacts after completing a century. Photograph: Philip Brown/Reuters
Along with Kohli and Murali Vijay, Rahane was one of the few successes for India in the tough four-Test series in Australia prior to the World Cup. He was always there in an hour of crisis, often stemming the rot with his resolute batting. If anything, he scored 399 runs in the rubber, including 147 off 171 balls in the third Test in Melbourne.
He was the only Indian who returned home with his head high and reputation intact from the previous disastrous tour of England. When all the Indian batsmen were repeatedly coming a cropper against the rampaging James Anderson and Stuart Broad, it was Rahane who salvaged some honour and pride for his team.
He scored 299 runs in the Tests, including a century at Lord's, at a fairly healthy average of nearly 34 (considering that his more experienced teammates failed miserably) and 192 runs, including a hundred at Birmingham, at an average of just a little under 50, in the ODIs.
It was vintage stuff and Rahane proved that he had come of age as a world-class batsman, one you can depend on when the chips are down.
Cheteshwar Pujara and Kohli, who were expected by most to plunder runs and set the Thames on fire, were shockingly reduced to their own shadows. Pujara was still good enough, at least in the first half of the Test series, but Kohli's was a complete flop show.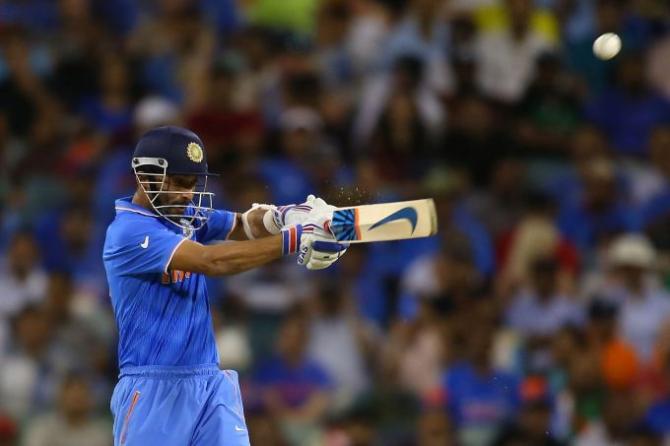 Ajinkya Rahane plays a pull shot. Photograph: Paul Kane/Getty Images
Rahane's success was no fluke. He had gone to England armed with brilliant performances on India's previous jaunts of South Africa (where he essayed two outstanding innings of 51 not out and 96 at Durban even as India lost by 10 wickets) and New Zealand (where he registered his maiden Test hundred).
"After his noticeable success on the South African and New Zealand wickets, where the ball comes quicker and bounces and swings prodigiously, I was certain that Ajinkya would be a major threat to the England bowlers. And so it proved.
"He may not have played many mammoth innings, but the way he handled the English fast bowlers, when other batsmen failed, was quite endearing. He demonstrated right technique, mental toughness and strong desire to prove himself," former India batsman Pravin Amre, who has coached Rahane, told Rediff.com.
"He is a much disciplined batsman, who does not lose his cool, or get excited, in any situation. He has improved his game, including footwork and shot selection and execution, by hours of practice in the nets. He is always a keen learner. He has begun well in international cricket and I am sure he will go places. India is lucky to have a batsman like Ajinkya."
For one usually getting to bat at No. 5 or No. 6, where opportunities are lesser and pressures greater, Rahane has done very well in his brief international career so far. Batting in the middle of the middle-order is not easy. If there is a collapse, you have to repair the damage while facing the bowlers who are dominating. If the team is in a strong position, you have to cut loose and add a few quick runs.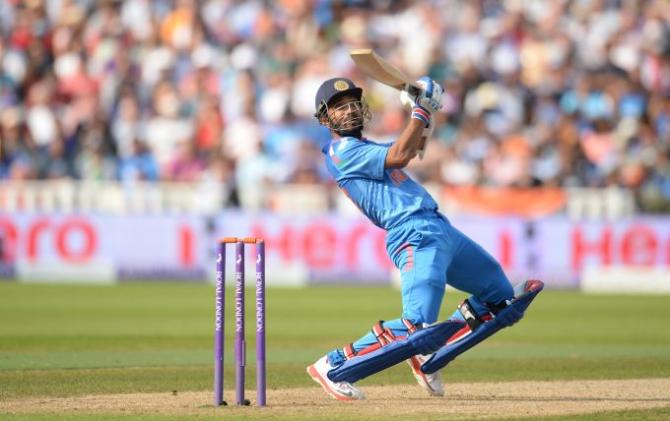 Ajinkya Rahane. Photograph: Philip Brown/Reuters
But Rahane's game is a judicious mix of caution and aggression, which enables him to adjust splendidly to any situation. And he bats accordingly.
The true test of an Indian batsman comes when he plays overseas in countries like Australia, England, New Zealand and South Africa, where the wickets are green and sporting and run-scoring is not as easy as it often is on the Indian pitches.
He has done far better than many in these four countries and made runs against heavy odds.
Success and stardom cannot go to the head of someone like Rahane, who, given his seriousness and concentration, resembles an ascetic at the crease. Being mentally strong, he never buckles under pressure; nor gets unduly affected by adulation or criticism.
Having brought much-needed order to Team India's middle-order, he is destined to have a long and distinguished innings in international cricket.