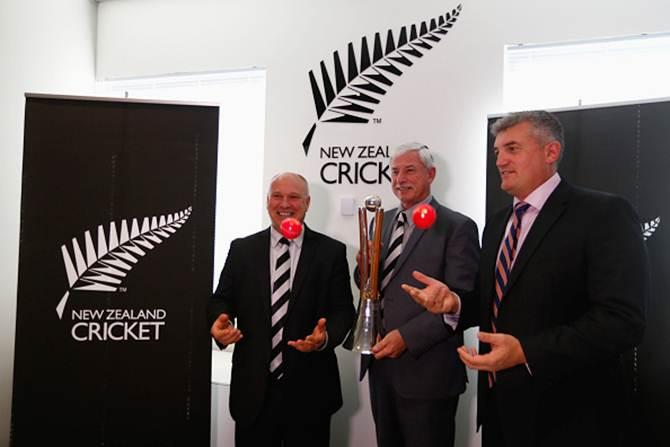 New Zealand Cricket CEO David White, board member Sir Richard Hadlee, and players association chief executive Heath Mills pose with the Chappell-Hadlee Trophy and pink balls for the first day-night Test, to be played in Adelaide starting on November 27, at a New Zealand Cricket press conference in Auckland. Photograph: Phil Walter/Getty Images)
The MCC has voiced its support for Cricket Australia and Cricket New Zealand's decision to host the first ever day-night Test match in Adelaide later this year.
The third and final Test in the series between the two teams will begin on November 27 and will be played using a pink Kookaburra ball.
MCC has led the development of the day-night Test concept since it first used the pink ball in April 2008 in a match at Lord's against Scotland.
The Champion County match has also been played under lights with a pink ball in Abu Dhabi since 2010, when MCC played then County champions Durham.
John Stephenson, MCC Head of Cricket, said: "This announcement is a very positive step for Test cricket and everyone at MCC is pleased with the news. The Club has conducted a lot of research over the years into the possibilities of day-night Test cricket using pink cricket balls, and it will be exciting to see this in action.
"The quality of the Champion County matches, which have been played under these conditions since 2010, has demonstrated that day-night, long-form cricket played with a pink ball is a viable proposition.
"This, combined with the successful Sheffield Shield trials of the pink ball late last year, make it clear that the time is right for a day-night Test match to be played with a pink ball."
MCC have also produced a short film detailing its research into day-night cricket and the pink ball.
"It's all about trying to help Test cricket thrive and prosper. At the right venue and with the right conditions, day-night Test match cricket can address the sharp decrease in attendances seen in certain countries around the world.
"The Club is very grateful to Cricket Australia for helping to develop this concept through the Sheffield Shield trials, culminating in the confirmation of the first ever day-night Test match on 27th November. MCC believes that Test cricket played under these conditions can be very popular and help revitalise the longest form of the game."
MCC is the world's most active cricket club, the owner of Lord's Ground and the guardian of the Laws and Spirit of the game.