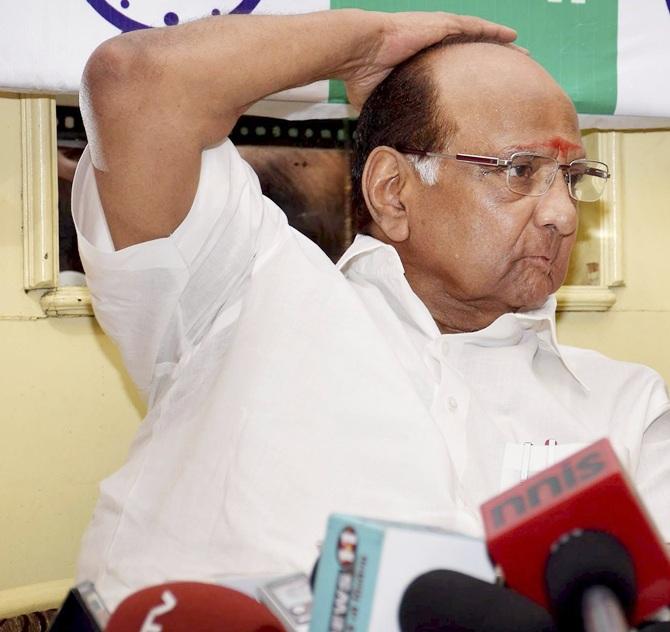 NCP chief Sharad Pawar. Photograph: PTI
With two days left for withdrawal of nominations for the Mumbai Cricket Association polls, one of the contestants Vijay Patil, has appealed to incumbent MCA and Nationalist Congress Party (NCP) chief Sharad Pawar to withdraw from the contest.
Former BCCI chief Pawar faces tough battle in MCA elections
"I have great respect for Sharad Pawar, who has held important positions in political and public life, but the time is upon him to bless my group (Cricket First)," said the outgoing vice president Patil while addressing the 330-odd member club representatives of MCA at Wankhede Stadium.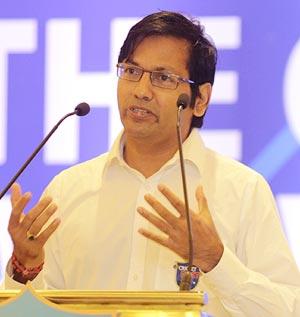 Patil, as well as Pawar, have forwarded their nominations to contest for the post of the President along with two other candidates belonging to the NCP chief's group – Ravi Savant and Ashish Shelar.
Patil, who is also the President of D Y Patil Sports Academy in Navi Mumbai which has hosted several IPL games in the past as well as Indian Super League football games, said he respected Pawar for his contribution in public life but felt it was time for others like himself to take over the reins of MCA.
"I have filed my nomination for the post of President, not to contest against him individually, but against a system that's bereft of ideas and needs out-of-the box thinking on several aspects of running the affairs of cricket in the jurisdiction that comes under the purview of the MCA and the usage of Wankhede Stadium and multi-functional facility," said Patil.
Saturday is the last date of withdrawal of nominations and, apart from Pawar and Patil, Savant – also an outgoing Vice President - and BJP MLA Shelar, have thrown their hats into the ring for the June 17 elections.
A source in Pawar's camp said that Savant and Shelar were only 'dummy' candidates who would withdraw from the race tomorrow, having filed nominations for other posts too.
In the last elections, Pawar was elected unopposed but this time a contest looks imminent.
Patil's forum has a few former cricketers like Lalchand Rajput, Pravin Amre and Abey Kuruvilla – who all have played Tests – in its fold and all of them are contesting for various posts in the upcoming MCA elections.

Former Mumbai and India opener Rajput and ex-Ranji Trophy left-arm spinner Sanjay Patil, also contesting from the 'Cricket First' ranks, hit out at the way MCA was being run by the ruling Bal Mahaddalkar group.
Rajput's ire, as well as that of Patil's, was directed at the way the local tournament calendar has been reframed by the ruling group to make the famous monsoon tournament Kanga League, to be played when the rains are on the wane instead of during peak season.
"The batsmen in the past got valuable experience of playing on wet and drying wickets in the Kanga League which has been taken away from us," rued Rajput which was supported by the MCA club representatives.
He was also critical of the way the indoor cricket academy in Bandra-Kurla complex was functioning without the appointment of any coaches for several months now.
Rajput also called for the introduction of an IPL-style Mumbai Premier League, that had been talked over in the past, to help the cricketers, coaches and support staff earn 'good money'.
"Karnataka have introduced it, Maharashtra have done it and even Goa have done it. Why not Mumbai," was his query.
Rajput said enough sponsors were waiting to take over the teams once this IPL-style tournament for Mumbai cricket was put in place.
"But the people in charge are not interested," he said.
"We used to have 7-8 players in the Indian team, but now with great difficulty have 1-2 players. Other teams have improved and we are resting on past laurels," he said.
Sanjay Patil said local tournaments like Purshottam Shield have been given the go-by due to the re-structuring of the calendar and wanted them to be revived.
Former club cricketer Mayank Khandwala, who has been a past joint secretary in the MCA and is contesting for the same post along with Rajput, charged that there were irregularities in the distribution of tickets during big matches hosted by the association.
"The website of MCA is not good, is not updated regularly and there are not enough information put on it," he said.
He also charged the ruling group of stalling a sponsorship proposal from Star Sports group for the proposed MPL.
© Copyright 2019 PTI. All rights reserved. Republication or redistribution of PTI content, including by framing or similar means, is expressly prohibited without the prior written consent.