Cheteshwar Pujara hit an elegant century on his Test comeback as India recovered from a jittery start to finish the opening day of the first Test against New Zealand on a comfortable 307 for 5 in Hyderabad on Thursday.
At stumps, Pujara, playing his fourth Test, was undefeated on 119, with skipper Mahendra Singh Dhoni (29) giving him good support. The duo added 47 runs in an unbroken sixth-wicket partnership.
After 16 years, Indian cricket's new era in Tests started at the Rajiv Gandhi Stadium in Uppal without stalwarts like Rahul Dravid and VVS Laxman in the starting line-up.
Pujara, who has long been considered having the requisite game to replace Dravid, showed that he has the right technique and temperament to succeed at the international level.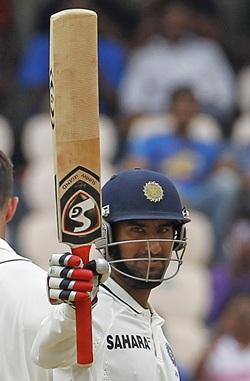 India had a brisk start, as the opening duo of Gautam Gambhir and Sehwag added 49 runs for the first wicket after Dhoni elected to bat after winning the toss.
But the duo perished to some reckless shots as left-arm seamer Trent Boult gave New Zealand the first breakthrough in the form of Gambhir, who chased an outgoing delivery and was caught behind for 22.
Sehwag, after getting a reprieve on 35, also failed to convert a fine start being dismissed for a 41-ball 47.
- Rajkot rejoices in 'Chintu' Pujara's ton
Sachin Tendulkar, also did not last long. He was castled for 19 by Trent Boult, and it was left to young guns Pujara and Virat Kohli (58) to put their hands up and be counted.
They did not disappoint during an entertaining stand of 125 runs for the fifth wicket.
Pujara's innings was all about patience and perseverance. His dodgy knee hurt him for the past two seasons before he showed glimpses of his good form during India 'A' tour of West Indies in June this year.
After the dismissals of Gambhir and Sehwag in quick successions during the first hour's play, India needed their No 3 batsman to lend solidity, a role Dravid had performed to perfection over the last decade-and-a-half.
Displaying a wide array of strokes during his near chanceless innings, Pujara revelled in the role of a sheet anchor. The youngster had the esteemed company of the world's leading scorer Tendulkar but the partnership did not last long as the legendary batsman was bowled through the gate.
It was a delivery that kept a bit low and skidded through, breaching the master's defence.
India were in a spot at 125 for three before the Kohli-Pujara duo bailed the team out.
It might seem an impossible task to fill in the void left after the retirement of Dravid and Laxman, who have a combined tally of 298 Tests and over 22,000 runs between them, but the young duo of Pujara and Kohli displayed the right intent.
After Tendulkar's departure, the second session was all about consolidating and it yielded 85 runs from 29 overs, while in the last session they took charge on Kiwi bowlers.
Boult tested Pujara giving room and the right-hander relished them as he hit the left-arm pacer for three boundaries in an over, forcing the visitors to try something new in part-time offie Kane Williamson.
The result was no different as Pujara spanked the bowler over long-on for a maximum, the first of the day.
The frustration was clearly evident on the Kiwis as the skipper Taylor gave Kohli a reprieve on 46, failing to get hold of a catch at the first slip.
Pujara's shots, meanwhile, saw him get past his previous best -- a matchwinning 72 vs Australia in his debut Test in October 2010, while Kohli too got to a stroke-filled half-century.
Luck, however, did not favour Kohli long as a rash shot cost him his wicket, caught at second slip by Guptill for 58.
But Pujara, batting on 95, kept his cool as he proceeded towards a coveted Test century. He reached 99 with a shot that bisected the point region and fetched him a boundary.
He played sensibly and his first century was just a matter of time and he went on to complete the mark in 169 balls (14x4, 1x6) neatly tapping a James Franklin delivery to fine leg for a single.
For somebody, who had to wait for his turn patiently, it was a truly a special moment as he looked heavenwards and hugged his partner Suresh Raina.
But if Pujara grabbed the opportunity in his comeback match with both hands, Raina, failed to capitalise on the opportunity getting out for three.
Skipper Dhoni, who was given a rapturous welcome by the 15,207-strong crowd, acknowledged the gesture hitting Patel for a six over long in the very seventh ball he faced.
Dhoni scored at brisk pace and intelligently rotated the strike, giving bulk of the deliveries to a well-set Pujara.
Pujara got a lucky reprieve on 117 when Aussie umpire Steve Davis ruled out a huge appeal of caught behind.
The replays showed that the ball kissed the gloves on the way to wicketkeeper Kruger van Wyk but umpire Steve Davis had other ideas.
India raced to the 300-mark in 85.2 overs with Dhoni going great guns along with the day's hero, Pujara.
Photograph: Vivek Prakash/Reuters