Kapil Dev's running catch at the boundary, to dismiss Viv Richards, is widely remembered by fans and cricketers alike, but Martin Crowe's effort to pocket a lunging catch and dismiss Zimbawe's Dave Houghton in the 1987 Reliance World Cup will always be special, reckons Siva Sankar.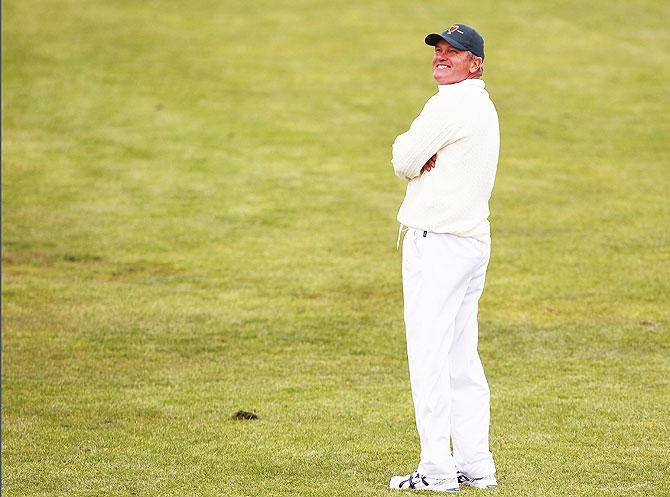 IMAGES: Former New Zealand cricketer Martin Crowe looks on during the men's Premier Reserve Grade cricket match between Papatoetoe and Cornwall at Papatoetoe Recreation Ground in Auckland on November 5, 2011. Photograph: Hannah Peters/Getty Images
For many cricket lovers among Indians born in 1960s and 1970s, the finest cricketing moment, in terms of joy derived in real time, must be Kapil Dev's stunning catch in the 1983 World Cup final at Lord's that got rid of Viv Richards.
For me, however, that joy proved to be short-lived -- a little over four years to be precise.
For, Kapil's catch was ejected from the top of my list of greatest pieces of modern era cricketing action by another daredevil, out-of-this-world catch, again in a World Cup match.
To this day, a replay in my mind of those moments brings me immense joy. And in my mind, I must have thanked Martin Crowe a zillion times for bringing me such joy.
So, sad though news of his demise was, what made me sadder was that no one seems to remember his glorious effort which went on to win the Best Catch/Fielding Award in the Reliance Cup of 1987.
By recounting that all-time great action here, I, one of Martin Crowe's countless admirers, wish to pay tribute to the departed soul.
It was a key match for New Zealand against Zimbabwe at the Lal Bahadur Stadium on October 10, 1987. After being put in, NZ scored 242/7 in 50 overs, with Martin Crowe, batting at No 3, top-scoring with a typically classy 72 off 88 deliveries (in the process, outscoring older brother and captain Jeff Crowe -- 31 off 35, batting at No 6).
Zimbabwe lost their first wicket early in the chase, and out came their wicket keeper-batsman Dave Houghton. He was to play the innings of his life, and almost ran away with the match, until Martin Crowe sprang a spectacular surprise.
There is just a solitary 53-second clip of that amazing catch on YouTube (external link).
Watch it. If you are a true-blood cricket nut, you will get goosebumps.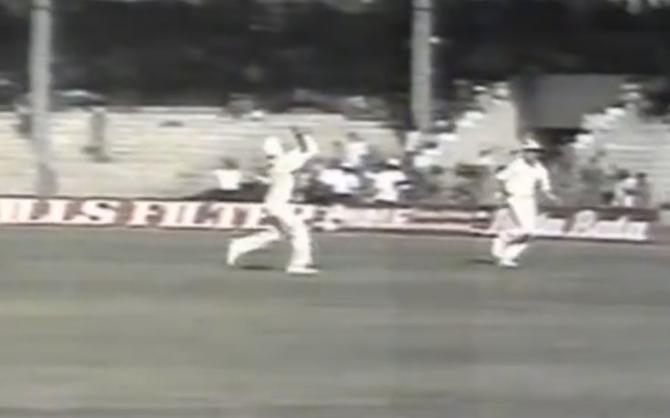 A video grab of Martin Crowe's catch to dismiss Zimbabwe's Dave Houghton in the 1987 Reliance Cup
Zimbabwe's fate appeared to be sealed at 104/7. But Houghton does not give up and sustains his aggressive assault. In the company of stubborn, courageous Iain Butchart, Houghton drives the score to 221.
A good-length, middle-and-leg delivery from right-arm medium-faster Martin Snedden (who had earlier opened the NZ innings and scored 64) finds Houghton on 142 heaving it over mid-on. The powerful hit takes off and gathers momentum and keeps sailing, "a very long way up in the air".
Positioned at mid-on inside the 30-yard circle, Martin Crowe, in whites, wearing his trademark full-sleeved shirt and white Panama cap, senses the trajectory of the ball, turns his back to the batsman and reflexively starts sprinting towards the boundary, head up all the time.
In a matter of just a few seconds, he is under the ball near the long-on boundary, all the while instinctively adjusting the direction of his strides on the ground, but head still up, gaze fixed on the moving object in the air -- as if he were some computer-guided surface-to-surface missile let loose, programmed to collide with the red cherry.
In one final leap, he lunges at the ball just in time, secures it, tumbles and rolls over, narrowly avoiding what could have been a possible collision with a fieldsman running in from deep mid-wicket.
Zimbabwe would lose that match falling short by just four runs, with two balls still remaining.
In the clip, the commentator's voice is ultra-cool, unemotive, but Crowe's catch is such even he can't but get excited. Adjectives like "beautiful, finest, wonderful, one of the great catches of all time" immediately roll off his tongue.
A phrase in the YouTube clip's headline says it all (in all capital letters): "MEGA RARE CLASSIC".
IMAGE: Martin Crowe in action during the first Test against Zimbabwe at the Bulawayo Athletic Club, Zimbabwe, in November 1992. Photograph: Mike Hewitt/Allsport
Compared with Kapil's extraordinary effort, I think Crowe's catch required a higher degree of skill, and it came at a more critical moment in the match.
It turbo-charged the tournament and underscored the critical role of fielding and catching in ODIs.
It confirmed the onset of the age of athleticism in modern cricket. It created a new norm that top batsmen need to be super fielders and contribute with the ball if required.
It encouraged Indian cricket fans to transcend nationalist, parochial mindsets and start enjoying sporting genius for its own sake, irrespective of its geographical identity.
Crowe went on to win many accolades, awards and hearts.
Imran Khan once remarked that Crowe at his peak was the best batsman in the world of his time. Wasim Akram acknowledged the Kiwi was "the BEST I ever bowled against".
Pundits went gaga over Crowe's revolutionary tactics in the 1992 WC when he, as captain of NZ, decided to open bowling with off-spinner Dipak Patel.
But to me, that under-celebrated, phenomenal catch in Hyderabad would remain the most shining instance of Martin Crowe's commitment to cricket and his team's cause.
'The Invincible', RIP.