Former Board of Control for Cricket in India president Shashank Manohar was "disillusioned" with the proceedings of the Board's Emergent Working Committee meeting, which he had attended as a representative of the Vidarbha Cricket Association.
"I can't disclose what happened at the meeting. All I can say is I was disillusioned with the happenings. I had gone there with the purpose of cleaning up the image of the Board in public domain, but I was disillusioned," the 57-year-old Nagpur-based lawyer told PTI on Monday.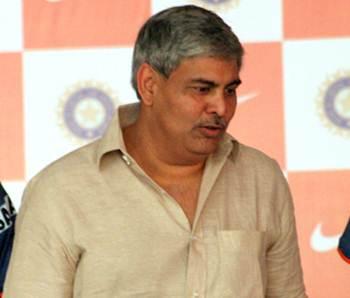 Manohar was outvoted 14-1 at the meeting when a hand count was taken for the nomination of R G Raghavan, ex-CBI director, as one of the three members of the panel that was formed (former cricketer Ravi Shastri and former chief justice of Kolata high court R N Patel being the others) by the Working Committee to probe into the spot-fixing and betting scandal in the Indian Premier League as per the Supreme Court's directive.
Manohar, who kept himself out of BCCI matters after his term ended in 2011, was succeeded by Srinivasan. Sunday's meeting was his first since he relinquished office.
The former BCCI chief had also opposed the name of Shastri because of conflict of interest as he's a Board-contracted television commentator and IPL Governing Council member.
Prior to attending the meeting Manohar had lashed out at Narayanaswami Srinivasan, who was forced to step aside as BCCI president, saying the Tamil Nadu strongman was "shamelessly and stubbornly" sticking to his post.
Gurunath Meiyappan, son-in-law of Srinivasan and alleged former team principal of IPL franchise Chennai Super Kings, owned by India Cements in which Srinivasan is the MD cum vice-chairman, had been named as one of the accused in the scandal by the Mumbai police.
On April 16, the Supreme Court, at its last hearing of the case, said Srinivasan's name was the 13th in the enclosed list submitted along with its report by the apex-court appointed Justice Mudgal Committee, which had probed the scam.
The names of Shastri, Raghavan and Patel will be submitted for approval of the Supreme Court which is hearing the IPL scandal, with the next hearing scheduled on Tuesday.
The Supreme Court had directed the BCCI at the last hearing on April
16 to suggest names of persons who will conduct a "fair probe" into the IPL 6 spot-fixing and betting scandal.
The apex court is expected to consider the suggestion by the BCCI and pass orders on the future course of the probe.
Image: Shashank Manohar
Photograph: Sanjay Sawant