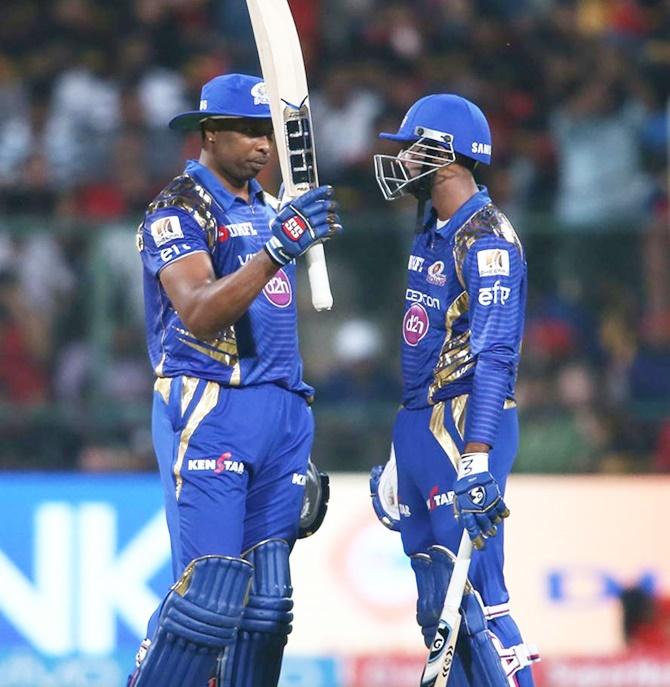 IMAGE: Kieron Pollard, left, of Mumbai Indians. Photograph: BCCI
Former India cricketer turned commentator Sanjay Manjrekar clarified his on-air comments on Kieron Pollard saying he never called the West Indian 'brainless'.
While it was clear from the footage that Manjrekar never uttered the word 'brainless' but Pollard's Twitter dig at the veteran cricketer saw lot of strong reaction on social media.
"Said 'Does he have the range (to bat higher up the order)?' Using terms like 'no brains' or 'brainless' not my style. I can be critical but never insulting," Manjrekar tweeted.
"I would also encourage all those reacting to the Pollard issue to hear the footage and not just take my word for it," he added.
Manjrekar's comment on Pollard's batting invited a strong response from the Mumbai Indians all-rounder apart from being trolled on social media.
Pollard had thought that the Indian called him 'brainless' on air.
"Do you know how I get big so.. about BRAINLESS.. words are very powerful .. once it leaves u can't take it back.. sins of parents fall on...
"You feel any positive can come out of your mouth because you get pay to talk you can continue with your verbal diarrhea (diarrhoea ) ..." Pollard had posted.
The West Indian struck a match-winning 70 to script a sensational turnaround for the Mumbai Indians against Royal Challengers Bangalore on Friday.