Manjot Kalra's journey has just begun and in Delhi it can get more intriguing if not interesting.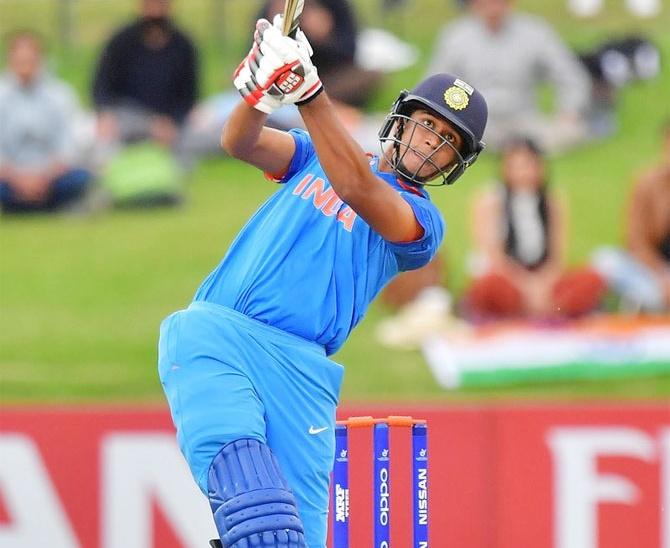 IMAGE: Manjot Kalra hoists one on the way to his hundred in the Under-19 World Cup final. Photograph: Cricket World Cup/ICC/Twitter
There is a saying in Delhi cricket: 'You become a star only if you are not a product of the system' and India's U-19 World Cup hero Manjot Kalra is a perfect example.
Whether it was maverick Virender Sehwag or a brash Virat Kohli -- everyone had tales to tell about the kind of treatment they got from Delhi and Districts Cricket Association -- DDCA -- at least once during their junior or senior days.
Kohli had gone on record how he was heartbroken when he was not selected for a Delhi U-15 team in his first year despite scoring tons of runs.
Sehwag also had issues with the administration and so did the fiery Gautam Gambhir.
Manjot's case is no different. He has had to fight multiple allegations of age fraud before he shone brightest on the world stage -- a hundred in the U-19 World Cup final against Australia emulating Unmukt Chand's feat in the 2012 edition.
"He came to me six years ago at the Bharat Nagar Cricket Academy. He had the talent and also great hand-eye coordination," his childhood coach Sanjay Bhardwaj said.
"He has been a prolific scorer at the age-group level and his performance doesn't surprise me at all," Bhardwaj added.
Popularly known as 'Guruji' in Delhi cricket circles, Bhardwaj has been a childhood coach to Gambhir and Unmukt apart from Indian Premier League sensation Nitish Rana.
He has a word of caution for Manjot.
"One shouldn't let this initial success get into his head. There is a lot of room for improvement in his batting. Obviously he will have to work hard on his footwork. But above everything else, he will have to score 1,000 runs in Ranji Trophy," Bhardwaj said.
"He (Manjot) is a good kid. Obedient and hardworking. But I would give a lot of credit to his father Parveen and mother Ranjeet as they were so passionate."
"Parveen and Hitesh were very keen that I guide Manjot and I am happy that the kid has done well," said Bhardwaj, who is known for being Delhi's best talent spotter along with rom Tarak Sinha.
A few months ago, a few parents complained to DDCA administrator Justice Vijkramajit Sen (retd) that Manjot's age was fudged.
A faction in the DDCA had filed an FIR against several junior cricketers a couple of years ago. Manjot's name featured in that list.
The BCCI by then had done his age-verification tests, which he had passed but to be a part of Delhi's U-19 squad, his medical reports were once again sought.
This, at a time when he was already a part of the India U-19 probables. Then Delhi's senior selectors ignored Manjot's talent at the start of the Ranji season claiming that Delhi's U-19 team needed him more.
This was at a time when India's U-19 Chief Coach Rahul Dravid wanted more and more boys to play the Ranji Trophy.
"We had a tough time with false police complaints being filed. But truth prevailed as we always knew where Manjot stood. His father and brother Hitesh have made lots of sacrifices and are behind Manjot's success," Chetan Kalra, Manjot's cousin, recalled.
The Kalras are a large joint family and eagerly await Manjot to return and join the celebrations.
"After he comes back, he will enrol for his graduation through correspondence. He had completed his 12th standard privately as he had to change schools regularly," Chetan said.
Manjot Kalra's journey has just begun and in Delhi it can get more intriguing if not interesting.
Till then, he is another uncut diamond that Delhi keeps producing in abundance.