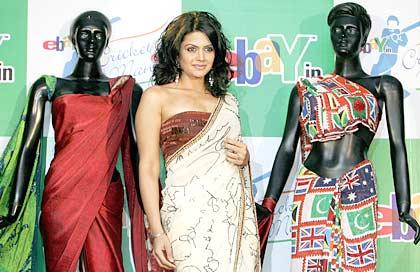 Popular televison anchor Mandira Bedi will again dazzle viewers during the coverage of the Cricket
World Cup
next month.
This time she will drape sarees, specially designed by fashion house Satya Paul.
The five saris will be auctioned by online website eBay after the mega event and will include flags of the participating nations, signatures of players, a red cricket ball, newspaper mastheads and cricket figurines.
The collection, which has been titled 'Bowled On The Run-Way', will be auctioned and its proceeds will be donated to a charitable organisation Mouth and Foot Painting Artists (MFPA) association, which looks after disabled artists.
"For the first time I will be wearing saris that have been designed on the cricketing theme. I am also very happy to be part of a good cause," said Mandira, a function organised to unveil the collection in New Delhi on Friday.
eBay also announced the launch of their Cricket Mania campaign to support the Indian team during their World Cup campaign. It will also donate Rs 5 to MFPA for every 'Go India Go' wristband that is auctioned during the event.